Messages
JewishGen.org Discussion Group FAQs
What is the JewishGen.org Discussion Group?
The JewishGen.org Discussion Group unites thousands of Jewish genealogical researchers worldwide as they research their family history, search for relatives, and share information, ideas, methods, tips, techniques, and resources. The JewishGen.org Discussion Group makes it easy, quick, and fun, to connect with others around the world. 
Is it Secure? 
Yes. JewishGen is using a state of the art platform with the most contemporary security standards. JewishGen will never share member information with third parties.
How is the New JewishGen.org Discussion Group better than the old one?
Our old Discussion List platform was woefully antiquated. Among its many challenges: it was not secure, it required messages to be sent in Plain Text, did not support accented characters or languages other than English, could not display links or images, and had archives that were not mobile-friendly.
This new platform that JewishGen is using is a scalable, and sustainable solution, and allows us to engage with JewishGen members throughout the world. It offers a simple and intuitive interface for both members and moderators, more powerful tools, and more secure archives (which are easily accessible on mobile devices, and which also block out personal email addresses to the public).
I am a JewishGen member, why do I have to create a separate account for the Discussion Group?
As we continue to modernize our platform, we are trying to ensure that everything meets contemporary security standards. In the future, we plan hope to have one single sign-in page.
I like how the current lists work. Will I still be able to send/receive emails of posts (and/or digests)?
Yes. In terms of functionality, the group will operate the same for people who like to participate with email. People can still send a message to an email address (in this case, main@groups.JewishGen.org), and receive a daily digest of postings, or individual emails. In addition, Members can also receive a daily summary of topics, and then choose which topics they would like to read about it.  However, in addition to email, there is the additional functionality of being able to read/post messages utilizing our online forum (https://groups.jewishgen.org).
Does this new system require plain-text?
No. 
Can I post images, accented characters, different colors/font sizes, non-latin characters?
Yes.
Can I categorize a message? For example, if my message is related to Polish, or Ukraine research, can I indicate as such?
Yes! Our new platform allows members to use "Hashtags." Messages can then be sorted, and searched, based upon how they are categorized. Another advantage is that members can "mute" any conversations they are not interested in, by simply indicating they are not interested in a particular "hashtag."
Will all posts be archived?
Yes. 
Can I still search though old messages?
Yes. All the messages are accessible and searchable going back to 1998. 
What if I have questions or need assistance using the new Group?
Send your questions to: support@JewishGen.org
How do I access the Group's webpage?
Follow this link: https://groups.jewishgen.org/g/main
So just to be sure - this new group will allow us to post from our mobile phones, includes images, accented characters, and non-latin characters, and does not require plain text?
Correct!
Will there be any ads or annoying pop-ups?
No.
Will the current guidelines change?
Yes. While posts will be moderated to ensure civility, and that there is nothing posted that is inappropriate (or completely unrelated to genealogy), we will be trying to create an online community of people who regulate themselves, much as they do (very successfully) on Jewish Genealogy Portal on Facebook. 
What are the new guidelines?
There are just a few simple rules & guidelines to follow, which you can read here:https://groups.jewishgen.org/g/main/guidelines
Thank you in advance for contributing to this amazing online community!
If you have any questions, or suggestions, please email support@JewishGen.org.
Sincerely,
The JewishGen.org Team
---
Help deciphering handwriting in Polish birth act : View mate # 80525 #translation
I've posted a vital record in Polish for which I need help deciphering handwriting
Alberto Guido Chester, Buenos Aires, Argentina
---
I've posted a birth record in ViewMate for an Abram Josef
Nudelman
.  I am looking for a translation from Russian that will give me the important info, full name of the child, parents, ages of parents, occupation, etc. as well as the full date of the event.  It is on ViewMate at the following address:
https://www.jewishgen.org/viewmate/viewmateview.asp?key=VM80461
Please respond via the form provided on the ViewMate image page and thanks so much for your help!
Be safe.,    Wendy Newman
---
---
---
Hello, 
Very common, in Poland also. Often all variations are used for one person.
Best
---
Hello fellow genealogists,
I have a brick wall in my family tree and am hoping someone might help me break through it. 
My grandfather's sister's birth name is Hana FIRER / FUHRER, born in Radom, Poland on December 4/16, 1878.  The record was recorded in 1880.   She is the daughter of Jakob Icek FIRER and Fajga Brandla AUSTRIAN.
Her Social Security Application in 1939 gives her birth date as January 1, 1884.  She was living in the Bronx at the time of application.
She died on February 15, 1965 in Brooklyn, NY and is buried in Beth David Cemetery in Elmont, NY.  Her headstone indicates she was a mother and grandmother.  The contact information from the cemetery indicates a grandson named Paul (no surname given) who lived in Miami Beach.  I found no other GOLDMAN's in the family plot.
Her married name is GOLDMAN.  I only have an initial for her husband's given name.  My grandfather arrived in the US on October 4, 1913 and was going to stay with his brother-in-law, "T GOLDMAN".
There is a family story that she lived in England before she came to the US and 'left a family behind'.  I have no idea of any truth behind this story.
I have not found her on the Ellis Island data base.  I have no idea of her husband's given name or any of her children.  Any and all help would be appreciated.
Greg Tuckman
Phoenix, AZ
---
Dear gersigs,

I hope that you could help me.

Siegmund Schild (parents Benjamin Schild und Hannchen Salberg in
Eimelrod (Frankenberg) was born 19.02.1858 in Wuennenberg (Bueren). He
was a painter in Unna and live in the Kaiserstreet. 07.12.1881 he
married in Unna Emilie Heymann (born 19.12.1850 in Unna). I know 2
Children

Eugen was born 07.02.1883 in Unna, le lived in Weinheim and Frankfurt.
He married Rosa Würzburger.
Emilie (Emma) was Born 31.03.1884 in Unna, she lived in Köln. She was
deported to Minsk 1942.

I did not found Siegmund, Hannchen Heymann and Eugen in the german
Gedenkbuch. What is happened with them?

Regards

Mike Redel
Unna, germany
---
Hi folks,

I'm looking for a professional translator to help me translate Polish records for a reasonable fee.
I'm aware of the amazing service JGEN provide known as ViewMate, but as some of the records from certain Polish regions were recorded in long documents, I'm seeking somebody to translate the entire entry word for word. Not just extract the names and dates.

Please contact me here with any information that can help me.

Best, Moses J.
---
I can't say this is universally true, but in my research in Hungarian archives, I have occasionally found lists of those who applied for passports, but no actual files of information or photos. Your only hope would be that the person kept the passport and the family has it in their possession. I am speaking here of turn-of-the century and earlier records. Perhaps passports issued later left more of a paper trail.
Beth Long
Reno Nevada
---
During these challenging times, MyHeritage is constantly looking for new ways to help people who are staying at home pass the time and learn how to do genealogy better.
The "Ask The Expert" 30-min sessions on Tuesdays and Thursday at 1pm Eastern U.S. time will explore each time a different subject and will give you the opportunity to learn and ask your questions live. For the updated May 2020 schedule and registration links visit
https://bit.ly/MyHAskTheExpert
---
Re: Searching for PHILIPS family possibly from Suvalk (Suwalki) Area -Translate Family Name from Grave Marker? Philips in US #poland #lithuania #translation
Susan Beecher <s_beecher@...>
Renee Steinig kindly found the family that I was looking for on JRI-Poland. From her email to me,
"Aha! I found these Suwalki birth records on JRI-Poland:
Dyna Rocha SOLINSKA b: 1837 parents: Abram, Feiga
Itka Szyfra FILIPOWSKA b: 1859 parents: Abel Hirsz, Dyna Rocha SOLINSKA
Mowsza Aron FILIPOWSKI b: 1861 parents: Abel Hirsz, Dyna Rocha SOLINSKA
Fejga FILIPOWSKA b: 1864 parents: Abel Hirsz, Dyna Rocha
Mowsza Aron must be Morris, and Fejga may be Fannie!"

With the original name, I was also able to find and see those records.  I am eternally grateful to her and to this group!
Susan

---
Looking for information on BURDEINIC family Soroka 1940 #bessarabia
Hello Genners. I could use some help finding out information about the BURDEINIC family from Soroki.  Notyeh and Khaveh are the names of my Grandfathers cousins. My grandfather was Froim Katsmazovsky (Katsmazovskij) I have a letter from them written in 1940 from: 
Burdeinic Motea
Str. Reg Carol
N 34 Romania
I do not know how they are my grandfathers cousins- any info would be helpful. 
Rachelle Litt
Palm Beach Gardens, Florida
---
Re: Searching for PHILIPS family possibly from Suvalk (Suwalki) Area -Translate Family Name from Grave Marker? Philips in US #poland #lithuania #translation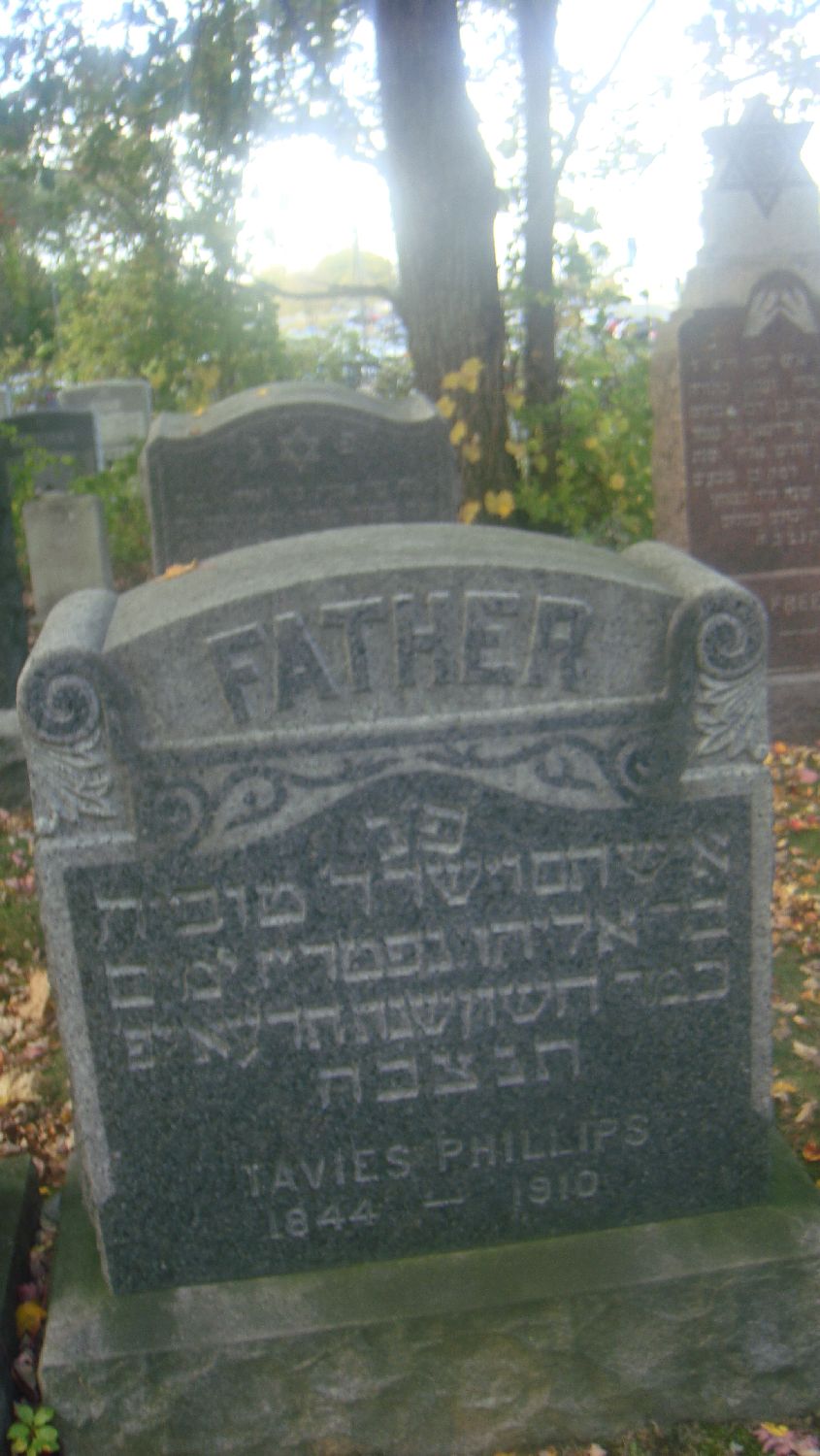 Here is an interesting possibility.  Tevye Philips, from the Bialystok area, died in Albany.  Like Abraham, is father was also Eliahu.  The Hirsh in Abraham's name probably came from an earlier ancestor, and Tevya had a son named Hirsch.
Tevye's immigration name was Mayer Gaczkowski.
contact me directly for more info.
family at kitces.com
---
Re: How can I find NYC naturalization papers with only the record number? #general
David Oseas
Cory,
There is a good write-up on manifest markings, written by Marian L. Smith (Historian emeritus, USCIS), on JewishGen: 
https://www.jewishgen.org/InfoFiles/Manifests/occ/
Starting in 1926, the INS required verification of the information on the Petition for Naturalization against passenger manifests, over concern for fraud during the naturalization process. 
Unfortunately, there isn't a lot you can do with the number that you cite:  it indicates that your relative filed to receive a "Certificate of Arrival" in the New York district (2-) in February, 1943.  There is no index to the CofA numbers.  For the people that I've researched, the verification was done anywhere from a year prior, up to two weeks before filing a petition, though the average is about one month prior.
The (404) [or a (505) notation] indicates that the information on the petition differed sufficiently from the manifest that the clerk was unable to certify that this was the correct person.  In my research, I have found that only a few passengers with a 404 or 505 notation went on to successfully naturalize.
Immigrants typically Americanized their names during the naturalization process and this information is recorded within the documentation.  Most naturalization indexes contain both the original name upon arrival, and the new name that the citizen will be using.  The name Meier frequently became Max in the US.
Starting in 1940, aliens residing in the US were required to file an Alien Registration form.  For people that did not become citizens before 1944, those forms were used to start an A-File with the INS.
You may find that a USCIS index search (
https://www.uscis.gov/history-and-genealogy/genealogy/searching-index
) will be fruitful -- for a (currently) $65 fee, they will search their indexes to see if they can locate a C-File or an A-File for your relative.  Based on the results of the search, you can request copies of the records (currently, an additional $65), or may even be able to locate them yourself.
Regards,
David Oseas
Researching:
HYMAN/HEYMAN/HEIMOWITS/CHAJMOVITS: Zemplen-Dobra, Hungary > New York
KLEIN: Satoraljaujhely (Ujhely), Hungary > New York > Los Angeles
OSEAS/OSIAS/OSIASI/OZIAS: Iasi, Romania > Chicago > Milwaukee > Los Angeles
SCHECHTER/SHEKTER: Kishinev, Bessarabia > New York  
SHERMAN: Iasi, Romania > New York > Los Angeles
STECKER: New York > Florida
STRUL:  Iasi, Romania > Haifa, Israel
WICHMAN: Syczkowo (Bobruisk), Belarus > Milwaukee > Los Angeles
---
---
Re: Searching for PHILIPS family possibly from Suvalk (Suwalki) Area -Translate Family Name from Grave Marker? Philips in US #poland #lithuania #translation
Hi Geniediane,
  I grew up in Marianna, Washington Co, Pa where my best friend was Ted Williams ( not that Ted ). His parents were of Russian  descent- Phil Williams and --- Phillips.  There was a Russian Orthodox church in our little town and which was presided over by Chuck Phillips who was Mrs Williams brother.  Not sure this is what you are searching for, but it might be worth a look.
Jim
JHazl@...
---
Did passports from before ww2 in Hungary Romania have pictures on them?
if yes are these documents and pictures saved by the government?
---
Re: LOOKING FOR INFORMATION ABOUT GT GRANDMOTHER #general
I did spell her married name wrong.  It is Auerbach..
---
Steven Turner
Gesher Galicia webinar series got off to a good start last week with Dr. Turner's presentation on his trip through former Galicia. We appreciate the positive feedback received to date.
This week, we are pleased to announce the posting of two educational programs by Dr. Andrew Zalewski, VP, Gesher Galicia, who presents on:
University Records: Jewish Medical Students
Educational Program Series: Learn about the opening of higher education to Jews, inspect university records as sources of genealogical information, and discover the inspiring stories of Jewish medical students from Galicia. The program brings you archival information from several universities attended by Galician Jews (from 1790's until 1939), it also informs on our annotated database of Jewish students and other educational material.
Cadastral Surveys: Names, Houses and Land Records
Educational Program Series: Unlock genealogical information from early population surveys by learning about the Josephine and Franciscan surveys. Hidden gems about Jewish members of Galician communities are shown through records; the transition between patronymics and hereditary surnames can be also ascertained in few instances. The program points to an additional material on this topic, which is available to Gesher Galicia's members.

The speaker's bio: Link
To access videos, please make sure you are logged into your Gesher Galicia account before clicking the link below.
You must be a member of Gesher Galicia to be able to access the webinars to join or renew your membership click on the link below.
Please leave your comments at info@....
If you are unable to access the Members Portal, send your inquiries to: membership@...
Dr. Steven S. Turner
President, Gesher Galicia
---
Henia is often tranlated as Hannah - as in my ancestor's name Henia or Hannah Serwianski (my great great grandmother) from Sejny, in Suwalki gubernia.

Jill Whitehead, Surrey, UK