Messages
JewishGen.org Discussion Group FAQs
What is the JewishGen.org Discussion Group?
The JewishGen.org Discussion Group unites thousands of Jewish genealogical researchers worldwide as they research their family history, search for relatives, and share information, ideas, methods, tips, techniques, and resources. The JewishGen.org Discussion Group makes it easy, quick, and fun, to connect with others around the world. 
Is it Secure? 
Yes. JewishGen is using a state of the art platform with the most contemporary security standards. JewishGen will never share member information with third parties.
How is the New JewishGen.org Discussion Group better than the old one?
Our old Discussion List platform was woefully antiquated. Among its many challenges: it was not secure, it required messages to be sent in Plain Text, did not support accented characters or languages other than English, could not display links or images, and had archives that were not mobile-friendly.
This new platform that JewishGen is using is a scalable, and sustainable solution, and allows us to engage with JewishGen members throughout the world. It offers a simple and intuitive interface for both members and moderators, more powerful tools, and more secure archives (which are easily accessible on mobile devices, and which also block out personal email addresses to the public).
I am a JewishGen member, why do I have to create a separate account for the Discussion Group?
As we continue to modernize our platform, we are trying to ensure that everything meets contemporary security standards. In the future, we plan hope to have one single sign-in page.
I like how the current lists work. Will I still be able to send/receive emails of posts (and/or digests)?
Yes. In terms of functionality, the group will operate the same for people who like to participate with email. People can still send a message to an email address (in this case, main@groups.JewishGen.org), and receive a daily digest of postings, or individual emails. In addition, Members can also receive a daily summary of topics, and then choose which topics they would like to read about it.  However, in addition to email, there is the additional functionality of being able to read/post messages utilizing our online forum (https://groups.jewishgen.org).
Does this new system require plain-text?
No. 
Can I post images, accented characters, different colors/font sizes, non-latin characters?
Yes.
Can I categorize a message? For example, if my message is related to Polish, or Ukraine research, can I indicate as such?
Yes! Our new platform allows members to use "Hashtags." Messages can then be sorted, and searched, based upon how they are categorized. Another advantage is that members can "mute" any conversations they are not interested in, by simply indicating they are not interested in a particular "hashtag."
Will all posts be archived?
Yes. 
Can I still search though old messages?
Yes. All the messages are accessible and searchable going back to 1998. 
What if I have questions or need assistance using the new Group?
Send your questions to: support@JewishGen.org
How do I access the Group's webpage?
Follow this link: https://groups.jewishgen.org/g/main
So just to be sure - this new group will allow us to post from our mobile phones, includes images, accented characters, and non-latin characters, and does not require plain text?
Correct!
Will there be any ads or annoying pop-ups?
No.
Will the current guidelines change?
Yes. While posts will be moderated to ensure civility, and that there is nothing posted that is inappropriate (or completely unrelated to genealogy), we will be trying to create an online community of people who regulate themselves, much as they do (very successfully) on Jewish Genealogy Portal on Facebook. 
What are the new guidelines?
There are just a few simple rules & guidelines to follow, which you can read here:https://groups.jewishgen.org/g/main/guidelines
Thank you in advance for contributing to this amazing online community!
If you have any questions, or suggestions, please email support@JewishGen.org.
Sincerely,
The JewishGen.org Team
---
Friedrich L.
Good morning from Germany,
I would love to translate the text for you but I don't find it anymore. Did you already find help?
Best regards!
---
FamilyTree Magazine's 101 Best Genealogy Websites 2020

FamilyTree Magazine has published its 2020 101 Best Genealogy Websites.  https://www.familytreemagazine.com/best-genealogy-websites .
They have divided the categories into the following:
Best Big Genealogy Websites
Best Genealogy Records Websites
Best Family Tree and Sharing Websites
Best US Genealogy Websites
Best African-American Genealogy Websites
Best Military Records Websites
Best State Genealogy Websites
Best Genealogy Apps and tech Tools
Best UK and Irish Genealogy Websites
Best Scandinavian Genealogy Websites
Best European Genealogy Websites
Best Mapping Websites for genealogy
Best Genealogy Library Websites
Best Historical Newspapers Websites
Jan Meisels Allen
Chairperson, IAJGS Public Records Access Monitoring Committee
---
If I recall correctly, the Jewish Exponent in Philadelphia similarly carried such "seeking relatives" advertisements.
--
Ken Ryesky,  Petach Tikva, Israel     
kenneth.ryesky@...
---
Seeking genealogical resources for Milicz (Militsch) SW Poland #poland
Hi Genners!


I recently posted a request for help locating a town mentioned in a Poznan census (see here). It turns out to be Milicz (or Militsch in German), in the lower Silesian region. Here's a brief history concerning its Jewish inhabitants (from sztetl.org.pl).
At first, the Jewish population inhabiting Milicz was very small. There were 5–10 Jewish families living in Milicz in the years 1794–1812, that is a total of no more than 50 people. The local Jewish community was established in the early 19

th

 century; a small synagogue was erected in the town in 1820. A cemetery was opened around the same period. The statute of the Jewish community of Milicz dates back to 1860; at the time, the community was the most populous. In 1848, it had 105 members, while in 1864 – as many as 197. The number of Jewish inhabitants of Milicz started to dwindle in 1871, falling from 64 in 1871 to 46 in 1937. The trend was temporarily reversed at the turn of 1925, when as many as 91 Jews lived in the town.
As one can see, the community was indeed a young one with most of it's inhabitants emigrating from other towns nearby or traders (Militsch was located near a frequent trading route).

However, I'm struggling to find any existing Jewish records from the town. In a book by Bloch Fritz (pub. Breslau 1926), he mentions various records both from the Kahal and civil records which (supposedly) are located at the Gesamtarchiv dear Deutschen Juden zu Berlin. If any of these still survive? Who knows.

I would appreciate to learn if records from this community exist, since I cannot even find vital Jewish records. We're BM&D perhaps registered elsewhere? We're they destroyed during the war?
 
Additionally, I learned of the existence of a Jewish Cemetery. I would very much like to know if the cemetery has been photographed or mapped by anyone in the past, given the ongoing international situation which refrains me from travelling there in person.

Best, Moses Jefferson
London, UK

---
Re: An Old Song - Possibly Russian, possibly Yiddish #general
Oh yes!  In Israel/ Hebrew, the rooster says 'Kukuriku' as an American rooster crows 'cock-a-doodle-do'.
Shirley Ginzburg
seeking SHLUGER/SCHLAGER from Shepetovka area Ukraine;  descendants from town of DUBNO, Ukraine;  DAMATOVSKY/DEMATOFF from Mir area of Belarus.
---
Hi Josh,
I may add, that Moses Salomon's wife's first name was most
likely not "Betty"
(compare the first capital letter with the last name
Benjamin), the end to me looks more like
something like ".ettig", sorry not to be of more help.
The first name is definitely Betty (y with dots: Bettÿ).
It's a mixed text from old German with Latin script.
Surnames and also place names are written in Latin script -
compare Rendsburg or Sanct Pauli.
regards
Ernst-Peter Winter, Münster (Hessen)
---
Thanks to JewishGen, I just found out a property owned by my great grand father property was seized by the Nazis, house is located in in Kazimierz Dolny, Poland. See viewmate # 82310
I was told the original document is at the Polish Archives in Warsaw and that a copy may be at the USHM in Washington, DC. I have contacted them
I have 2 questions:
1- How can I verify the address was the same in 1940 as now. A photo of a house can be seen when googling the addresst, it is a tourist attraction and a rental house
2- How to ask/file for restitution?
Thanks
Anne Marie Nunez
great grand daughter of Slama Hauszwalb
---
The answer is Yes.  "Seeking Kin" or similarly named ads were placed in Jewish newspapers by social service organizations including the Hebrew Immigrant Aid Society, the Union of Russian Jews, the National Council of Jewish Women and others.
They appear in the J
ewish Advocate, Boston
newspaper from 1916 to 1991.  Members of the Jewish Genealogical Society of Greater Boston have indexed 5,000 of these ads and they are searchable on Jewishgen's USA Database.  
https://www.jewishgen.org/databases/USA/BostonSeekingKin.htm
David Rosen
Boston, MA
toggle quoted message

Show quoted text
On 6/8/2020 3:53 PM, Ruth Kornbluth wrote:

Was there ever an organization that helped survivors establish contacts with American relatives after the war by publishing ads in newspapers across the USA? And, if so, would any of those records be available for research?
Thanking you in advance…
Ruth Fenichel Kornbluth
---
Hi Carol:
I am sure you will find this document of a great value.
Regards
Alejandro T Rubinstein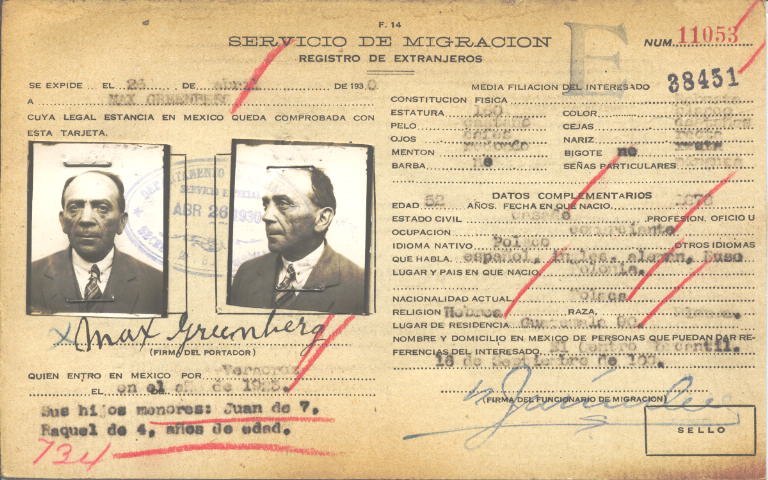 ---
Informations about Jews from Jadow / Yadov / Yaduv [Poland] #poland
I'm looking for informations about Jews from little town Jadow [also known as Yadov or Yaduv]. I'm opening non-profit museum in Jadow this year and I would like to comemorate here as many Jews and their stories as it will be possible. I will be glad if you can help me in any way to find Jews from Jadow, their relatives and any stories & materials (documents, photograps) connected with them.

Best,
Marek Suchocki
---
Re: Where are the Smolensk vital records located? #belarus
---
Hello-
I had a great aunt who came over to the US named Fannie Stabinsky(modt likely an Americanized change from Sztabinska). She married Ben Freeberger (Frie or Freiberger) from Russia (at the timer) now Poland. I'm not fure if this helps, but I hope so.
Fran Frieberger Jackson
St Louis MO
---
---
Re: German Citizenship under Article 116 #germany
The German Consulate in Los Angeles told me to expect a 2 year wait after submission of all the required documentation. It's now been 25 months and I'm still waiting, but I suspect Covid slowed everything down.
---
Ronald Alex Nathan
Earliest Direct Ancestor is Moses Nathan (1792-Jan. 1854).
Born in Whitechapel, London, England
Married to Rebecca (last name?), (Calculated 1792-1860)
They had Lewis Nathan (only 1 child?), who married Hannah (Cohen?) on Aug.
15, 1838 at 3 Cobb's Yard, London, England
1841 Census has Rebecca and Moses living with their son and daughter-in-law
at Cobb's Yard, Tower Hamlets, Middlesex, London, England
How do I find out more about Moses and Rebecca?
Respectfully, Ron A. Nathan
---
I may add, that Moses Salomon's wife's first name was most likely not "Betty"(compare the first capital letter with the last name Benjamin), the end to me looks more likesomething like ".ettig", sorry not to be of more help.
It's "Bettÿ", Using different forms of the same letter in a record is sometimes used for emphasis. The entire name "Benjamin" is in a modern form in order to emphasize it. We would now use italics for that purpose.
--
Ralph N. Baer       
RalphNBaer@...
       Washington, DC
---
tracing American relatives #usa
Was there ever an organization that helped survivors establish contacts with American relatives after the war by publishing ads in newspapers across the USA? And, if so, would any of those records be available for research?
Thanking you in advance…
Ruth Fenichel Kornbluth
---
---
Hi Lin
you mentioned
*WOLF-*Munster, Darmstadt-Dieburg, Hessen, Germany
I'm living at Münster and was confronted for the first time
about 3 years ago with the genealogy of Jewish fellow
citizens. Although I have been researching for over 45
years, this was a completely new challenge, as completely
different sources had to be found and consulted.
I'm interested in all facts about jewish families in Münster.
At present I have information about Zilly Wolf, wife of
Abraham Falk, marriage on 06 JUL 1862 in Münster, daughter
of Meyer Wolf. Zilly Wolf is said to come from Lützelsachsen.
Regina (Reingen) Wolf, daughter of Samuel Wolf and Veilchen
(Vögelchen) NN was born on 10 OCT 1810 in Langen (Hessen)
and died on 02 SEP 1851 in Frankfurt. She married ABraham
Strauß on 25 MAY 1845 in Sprendlingen (Dreieich). In Münster
they have a daughter Rosina, born on 08 FEB 1846.
I am very pleased about an exchange.
Sincerely
Ernst-Peter Winter, Münster (Hessen)
---
I've had a BRICK WALL for over 10 years of active research. My grandfather, Isidor (Icek?) Bergman was born in Warsaw (maybe not?) in 1880 or 1882. According to his Ketuba and his SS documents, his father was Simon. His mother was Feige born Elbaum in 1837 in Lublin. (The family later changed the surname to Kierer.) She married a Dawid Boguslawski who died while she was pregnant with Samuel David Boguslawski, born 1863. I don't know when she married Bergman or anything about Simon Bergman. She emigrated to the U.S. in 1890 under the name of Czippe (Czippe is Hebrew for Feige) Bergmann, but alas her 8 year old son was not on the ship manifest. I have very many documents about her family from Lublin -- parents, grandparents, and siblings, but NOTHING about the Bergmans. I have used every available resource. Any clues? Attached are photos of Feige and Isidor and his half brother -- (Isidor on the left) -- taken around 1895.
--
Abby Barry Bergman
New York