Messages
JewishGen.org Discussion Group FAQs
What is the JewishGen.org Discussion Group?
The JewishGen.org Discussion Group unites thousands of Jewish genealogical researchers worldwide as they research their family history, search for relatives, and share information, ideas, methods, tips, techniques, and resources. The JewishGen.org Discussion Group makes it easy, quick, and fun, to connect with others around the world. 
Is it Secure? 
Yes. JewishGen is using a state of the art platform with the most contemporary security standards. JewishGen will never share member information with third parties.
How is the New JewishGen.org Discussion Group better than the old one?
Our old Discussion List platform was woefully antiquated. Among its many challenges: it was not secure, it required messages to be sent in Plain Text, did not support accented characters or languages other than English, could not display links or images, and had archives that were not mobile-friendly.
This new platform that JewishGen is using is a scalable, and sustainable solution, and allows us to engage with JewishGen members throughout the world. It offers a simple and intuitive interface for both members and moderators, more powerful tools, and more secure archives (which are easily accessible on mobile devices, and which also block out personal email addresses to the public).
I am a JewishGen member, why do I have to create a separate account for the Discussion Group?
As we continue to modernize our platform, we are trying to ensure that everything meets contemporary security standards. In the future, we plan hope to have one single sign-in page.
I like how the current lists work. Will I still be able to send/receive emails of posts (and/or digests)?
Yes. In terms of functionality, the group will operate the same for people who like to participate with email. People can still send a message to an email address (in this case, main@groups.JewishGen.org), and receive a daily digest of postings, or individual emails. In addition, Members can also receive a daily summary of topics, and then choose which topics they would like to read about it.  However, in addition to email, there is the additional functionality of being able to read/post messages utilizing our online forum (https://groups.jewishgen.org).
Does this new system require plain-text?
No. 
Can I post images, accented characters, different colors/font sizes, non-latin characters?
Yes.
Can I categorize a message? For example, if my message is related to Polish, or Ukraine research, can I indicate as such?
Yes! Our new platform allows members to use "Hashtags." Messages can then be sorted, and searched, based upon how they are categorized. Another advantage is that members can "mute" any conversations they are not interested in, by simply indicating they are not interested in a particular "hashtag."
Will all posts be archived?
Yes. 
Can I still search though old messages?
Yes. All the messages are accessible and searchable going back to 1998. 
What if I have questions or need assistance using the new Group?
Send your questions to: support@JewishGen.org
How do I access the Group's webpage?
Follow this link: https://groups.jewishgen.org/g/main
So just to be sure - this new group will allow us to post from our mobile phones, includes images, accented characters, and non-latin characters, and does not require plain text?
Correct!
Will there be any ads or annoying pop-ups?
No.
Will the current guidelines change?
Yes. While posts will be moderated to ensure civility, and that there is nothing posted that is inappropriate (or completely unrelated to genealogy), we will be trying to create an online community of people who regulate themselves, much as they do (very successfully) on Jewish Genealogy Portal on Facebook. 
What are the new guidelines?
There are just a few simple rules & guidelines to follow, which you can read here:https://groups.jewishgen.org/g/main/guidelines
Thank you in advance for contributing to this amazing online community!
If you have any questions, or suggestions, please email support@JewishGen.org.
Sincerely,
The JewishGen.org Team
---
Hi Laurie,
I completely agree with you, when putting trees on internet (geni, myheritage etc …) there are plenty of people who think they are smart in adding anything in order to get a huge, but mostly fabricated, tree.  I have my family tree privately build and once a cousin asked me to forward him my gedcom file; I send it to him with the explicit demand not to put it on internet.  This 'idiot' did it without my permission (I had to respect privacy matters with some family members) and at the long run my tree became a mess with shulent, kigel and kishke mixed.  I was really furious on that cousin and decided that I never again will give a gedcom format to any one, only a PDF descendant format tree to family members.  It does not mean that geni and myheritage have not positive effects in researching.  I do researching through this channels, but try to be very careful with the information on it.  Most of the information is more or less correct, but with experience you might find mistakes and completely invented pieces, like a son who is born 30 years after the death of his mother, as well as putting wrong information through different trees and mixing them together.
It is important to keep track of correct records; for example I found yesterday somebody who stated that her grandfather was born in London, what was absolutely impossible; but she did not know and supposed that what she decided was correct … and this information will on the long run be kept as correct.
My conclusion is : you can research all kind of records anywhere, but keep it in mind that any record where ever you find it can be right or wrong, not only geni/myheritage, but also civil records anywhere.  Use common sense and then you will be able to detect most mistakes.
Marcel Apsel
Antwerpen, Belgium
---
Luckily there are some people like you; if not we will have to 'accept' that each rabbi would have between 50 children or more ……!!!!!
Marcel Apsel
Antwerpen, Belgium
---
The place is Brześć Kujawski located 8 km west of  Włocławek 
Lublin
---
Dr. Ruth Leiserowitz
Most of the texts are in Dutch, only small parts in German.

Ruth Leiserowitz

Berlin / Warsaw


---
One topic common to many Yizkor books is a description of the town's market day. Market days were a vital part of the economy on which people depended for the earnings that would carry them through the week and beyond. They were also raucous affairs where people socialized and drank, Jews mixed with gentile traders and customers, and the shouts of goods being hawked and haggling over prices filled the jammed marketplace.
In one sense, you can say if you've seen or read about one market day, you've seen and read them all. But what is always appealing about these accounts, however similar, is that each has its own unique cast of characters who are vividly described. Each has different ways of recounting the "art of the deal." Descriptions of the foods are delights. But more than all of that, market day was a microcosm of Jewish life in the shtetls, and chapters like these seem to capture all of it.
"At the Market: A Jewish Town's Struggle for Bread" is from the Yizkor book of Kolbuszowa, Poland, although this particular translation comes from a well-known anthology of Yizkor book chapters titled "From a Ruined Garden."
I think I can give you a little taste of this chapter without spoiling it, just so you know what I mean. Here's a favorite passage of mine:
"The first rays of God's sun meet with signs of preparation for a busy day. Shutters open. Jews with their tefilin bags under their arms hurry home from early services. The Biale vegetable growers, who had arrived the previous night in order to secure their accustomed spots, creep out from underneath the wagons where they've spent the night, and begin to sort out their produce. The 'Bialer goyim' are well-acquainted with the things Jews need for their Sabbath table. Onions for fish, parsley for soup, little cucumbers with dill for pickling, and carrots for tsimes. A growing human stream, together with containers and merchandise, pours forth from all of the back streets, Jews bearing crates, poles, and boards get ready to build their 'pavilions' at the Great Weekly Exhibition."
--
Bruce Drake
Silver Spring, MD
Researching: DRACH, EBERT, KIMMEL, ZLOTNICK
Towns: Wojnilow, Kovel
---
Dr. Ruth Leiserowitz
---
Marjorie Geiser
Hi JewishGeners,


Ready for some new tips, strategies or resources to help break through to the next level with your family research?


No matter what level researcher you are, there are times we can all benefit from talking with others about our biggest brick walls. It's not uncommon to have that ONE question you just can't resolve.


Do any of these sound like you?
·         * You've searched on JewishGen, Ancestry and FamilySearch, etc., over and over and over again, but STILL can't find your great-grandmother in the old country.
·         * You've found yourself, more often than you care to admit, researching naturalization papers for your grand-uncle, only to realize you ALREADY searched those same records last week. AGAIN!
·         * You just got started, but wonder how to navigate the wealth of resources that are out there. It all feels SO overwhelming!
JewishGen Virtual Conversations provide helpful suggestion, strategies, resources and support with your research goal. These private sessions are designed to empower you to find the answers you're looking for.


Just $36 for a 45-minute Zoom session. To learn more, or to complete the questionnaire to get started, click this link; https://www.jewishgen.org/Education/edu-virtual.html

Margie Geiser
mgeiser@...
JewishGen Virtual Conversation
---
Nancy Siegel
What's new at JewishGen? Don't miss the April issue of JewishGen News. 
Stay informed via the program announcements, reports, and project updates. Read about the Orphans of Meisjeshuis, the Vogel family, the Fonds de Moscou, Life on Cheetwood Street, and more.
If you aren't subscribed to receive a copy of the newsletter by email, you can access it by following this link:
https://mailchi.mp/jewishgen.org/jewishgen-newsletter-march-327948
Enjoy!
--
Nancy Siegel
Director of Communications
JewishGen.org
(San Francisco, California)
nsiegel@...
---
The Friederich der grosse landed in the Port of New York on 23 August. It took about 10 days for the sailing. It is unlikely that it returned to Europe and made it back to the U.S. by 12 Sep 1898. If a passenger was traveling steerage, they would have gone through Ellis Island, whether their ship docked at New York or Hoboken. After clearing the various check-ups on Ellis Island, they would have taken the ferry back to either New York or Hoboken. There's a great article from 2014  at
http://hmag.com/port-entry-continent/
Janette Silverman
Phoenix, AZ and Salt Lake City, UT
---
I took a Holland-America student ship from Hoboken when I went to Europe in my '20s.   The year would have been 1962.
Judy Floam
Baltimore, MD
---
I have a stack of letters between my grandparents in the 30s that I'm trying to get translated. I've attached a few here - any help will be greatly appreciated.
---
 this is why you never copy from someone else! Often these people just seem to want to brag about how many people are in their tree. One person posts unverified data in their tree and 100 others copy these mistakes into their trees and the mistake snowballs. Don't be one of those people.
Precisely.  
We should all try to distinguish between:
"My tree" - the tree which I trust, edit and share  with people whom I choose to share with.
"Public Tree": A tree out there on an internet site.
"Collaborated tree" A tree on which I collaborate only with people trust and those who trust me
We should also realize the the sites offering "Smart Matches" and "Links" are dangling baits for users to cough up and pay subscripion money. 
One should never ever accept them blindly. Sometime, they add great info. Sometimes they don't - buyer beware.
I have had even Geni curators merge profiles and mess up the tree I consider my public tree - 
and I have had them correct the mess when I sent them documentation.

I have had "merge" requests on Geni, that I simply ignore - and I have had disagreements with collaborators, which we agreed to leave as documented comments concerning that person or name.
As noted by Pieter Hoekstra: Some people honestly think and feel that the larger their tree, the better things are. Others value validity.  Those of us who value validity can't fight / or try convince those who believe in "this is a public party and the more the merrier". We can and should tend our garden to the best of our ability - 
And always remember the following comic:
xkcd: Duty Calls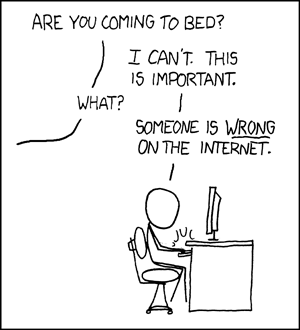 --
Odeda Zlotnick 
Jerusalem, Israel.
---
passports for non-naturalized residents london, canada and the usa? #records
arnold friedman <afriedman21@...>
i have a morris/maurice/maures/max jacobs/jackson who was born in
poland abt 1851, he was living as a boarder in london in 1871,
married in 1877, went to canada around 1907 and came to the US in
1924, died in 1929.

Do non-citizens residents get something like a government passport
prior to traveling to a new country, and if so, is it called a
passport or some other document, and where might i find it for England
or Canada.

Based on my research so far, i believe that it was unlikely that he
ever became a naturalized citizen of uk, canada or usa

i am trying to figure out what city in poland he came from and/or both
his parents names. I have wedding record from uk gov and the great
synagogue, us boarder crossing, death record, lots of census records
for morris, but nothing that provides fuller information like
naturalization records or possibly passport application (a passport
photo of him would be nice)

So appreciate advice on non citizen resident gov records like might be
available in that timeframe especially in london or toronto canada.

thank you

arnold friedman
redwood city, ca usa

MORRIS/MAURICE/MAURES/MAX JACOBS/JACKSON
with Wife Marianna Green and Father Israel.
I have not identified any siblings for Morris.
---
I'm looking for any information, birth, marriage, death or other certificate, record or cemetery information on the following ancestors.
Searched by name and cemetery records on Jewishgen with no success.
Any information on how to find information or documents on them will be deeply appreciated:

Isaac(Yitschak) Ber and Lea Ber who lived in Khotin/Hotin c. 1870 to 1930, then Romania, now Ukraine.
Their sons Wolf Ber b. 16 Sept. 1906 and Ionda(Jonda) b. 15 June 1903, both migrated to Brazil 1929/30.

Moricis Abuliac (Abulhk, Abuliak) e Rifca(Rivca) Abuliac.who lived in Briceni c. 1870 to 1930, then Romania, now Moldova.
Their daughter Perl b. 01 Feb. 1918, migrated to Brazil and got married to Wolf Ber.

Thank you.
Alberto Kremnitzer  ID#: 38830
---
Re: Free Webinars with Dr Janette Silverman, Eastern European Genealogy expert 5/1 #events
---
---
-----Original Message-----
From: laurie.budgar@...
I just received my great-granduncle's naturalization records. They indicate he immigrated through the port of Hoboken on 12 Sep 1898 on the ship Frederick der Grosse. I've never heard of immigrating through this port, 
Hoboken NJ is part of the port complex of New York in the eyes of the immigration folks and the passenger lists are in the NYC records. Immigrants would still go through Ellis Island or the Barge office depending on time or processed on the dock when they were traveling in the higher classes of the ship. Ships going to New York and New Jersey all came through the same route called The Narrows and they would stop at the the immigration point for clearances.

Hoboken is on the west side of the Hudson River so the ship made a left coming north on the river instead of turning right to Manhattan or Brooklyn.
The German shipping companies used the docks in Hoboken and Brooklyn for many years and Holland-America Line went to Hoboken till the 1960s. (If you ever see the movie On the Waterfront, that is the Hoboken docks and a Holland America liner from the 1950s is in some of the scenes.)
Allan Jordan

(a maritime historian as well as a genealogist)

New York

---
The "wrong people" issue is a longstanding problem. For me, the value of
sharing information outweighs the downside, so I try to be zen about the
mistakes I so often run across. (Like the guy who seems to believe that
my great-grandfather was age 8 when he had his first child.)
About the unresponsiveness on places like Ancestry: I am guessing some
people test, or upload a tree using a burner email, and never come back
to check messages.
It would be helpful if Ancestry had more sophisticated data validation.
But they are apparently are making enough money without offering too
many bells and whistles, and they only (grudgingly) make enhancements
when they can no longer ignore demand.  MyHeritage has been more useful
for trying to locate connections, but it's still early days for this
industry.
I'm sad to see that people are keeping trees private. I understand the
desire for record integrity, but that can be achieved via a tree that's
maintained offline. We don't own our ancestors' info, and if my public
tree can help someone else with a breakthrough, well, isn't that part of
the reason we do this?
JoAnne
--
JoAnne Goldberg - Menlo Park, California; GEDmatch M131535
BLOCH, SEGAL, FRIDMAN, KAMINSKY, PLOTNIK/KIN -- LIthuania
GOLDSCHMIDT, HAMMERSCHLAG,HEILBRUNN, REIS(S), EDELMUTH, ROTHSCHILD, SPEI(Y)ER -- Hesse, Germany
COHEN, KAMP, HARFF, FLECK, FRÖHLICH, HAUSMANN,  DANIEL  -- Rhineland, Germany
---
Unfortunately, even JewishGen is not immune to this issue. I have had someone go in and hand transcribe a large portion of my tree from the FTJP into their own tree on Ancestry, and then proceed to change things to fit their methodology. This person was not even a blood relative! No amount of pleading with him would make him budge or change anything. :(

Scott Groll
Ventura County, CA
---
I would like to throw into the mix, the thought/intention that some copying of data from others may be purely that people are hopeful that a new piece of information may lead to somewhere meaningful. Obviously, there should be a caveat on the accuracy and one would hope that if incorrect data becomes apparent that each would communicate such and rectify.
Karen Saunders
toggle quoted message

Show quoted text
Randy wrote: "There is so much misinformation about Geni from people who don't really use it. The critic Alan Ehrlich, for example, has added just 34 profiles..."

It's my sincere 'hope' that Randy's incorrect statement above is solely because he was misinformed. However, since he so often unflinchingly disses anybody who's critical in any manner about Geni, well I don't know... Anyway, for information, allow me to set the record straight:

Even before Geni's official launch, while Geni still was in beta test mode, I uploaded an initial gedcom file which by then documented circa 3'000 ancestors and relatives... plus further updated that on several occasions during the following year and months. Oh yes, since then my family database gradually grew to include 20'000+ persons... which many of you know first hand as I've always been eager to share with others all the information it contains.


Perhaps 'food-for-thought' on Geni's behalf, rather than reflexively responding 'ad hominem', perhaps offer remedies to the serious short-comings we are pointing out.

Kind regards,
Alan Ehrlich
Geneva, Switzerland
--
Hello. I would like to join to research info about my 4 x g grandfather Abraham ben Gedaliah Tiktin 1764 - 1820. With thx.