Messages
JewishGen.org Discussion Group FAQs
What is the JewishGen.org Discussion Group?
The JewishGen.org Discussion Group unites thousands of Jewish genealogical researchers worldwide as they research their family history, search for relatives, and share information, ideas, methods, tips, techniques, and resources. The JewishGen.org Discussion Group makes it easy, quick, and fun, to connect with others around the world. 
Is it Secure? 
Yes. JewishGen is using a state of the art platform with the most contemporary security standards. JewishGen will never share member information with third parties.
How is the New JewishGen.org Discussion Group better than the old one?
Our old Discussion List platform was woefully antiquated. Among its many challenges: it was not secure, it required messages to be sent in Plain Text, did not support accented characters or languages other than English, could not display links or images, and had archives that were not mobile-friendly.
This new platform that JewishGen is using is a scalable, and sustainable solution, and allows us to engage with JewishGen members throughout the world. It offers a simple and intuitive interface for both members and moderators, more powerful tools, and more secure archives (which are easily accessible on mobile devices, and which also block out personal email addresses to the public).
I am a JewishGen member, why do I have to create a separate account for the Discussion Group?
As we continue to modernize our platform, we are trying to ensure that everything meets contemporary security standards. In the future, we plan hope to have one single sign-in page.
I like how the current lists work. Will I still be able to send/receive emails of posts (and/or digests)?
Yes. In terms of functionality, the group will operate the same for people who like to participate with email. People can still send a message to an email address (in this case, main@groups.JewishGen.org), and receive a daily digest of postings, or individual emails. In addition, Members can also receive a daily summary of topics, and then choose which topics they would like to read about it.  However, in addition to email, there is the additional functionality of being able to read/post messages utilizing our online forum (https://groups.jewishgen.org).
Does this new system require plain-text?
No. 
Can I post images, accented characters, different colors/font sizes, non-latin characters?
Yes.
Can I categorize a message? For example, if my message is related to Polish, or Ukraine research, can I indicate as such?
Yes! Our new platform allows members to use "Hashtags." Messages can then be sorted, and searched, based upon how they are categorized. Another advantage is that members can "mute" any conversations they are not interested in, by simply indicating they are not interested in a particular "hashtag."
Will all posts be archived?
Yes. 
Can I still search though old messages?
Yes. All the messages are accessible and searchable going back to 1998. 
What if I have questions or need assistance using the new Group?
Send your questions to: support@JewishGen.org
How do I access the Group's webpage?
Follow this link: https://groups.jewishgen.org/g/main
So just to be sure - this new group will allow us to post from our mobile phones, includes images, accented characters, and non-latin characters, and does not require plain text?
Correct!
Will there be any ads or annoying pop-ups?
No.
Will the current guidelines change?
Yes. While posts will be moderated to ensure civility, and that there is nothing posted that is inappropriate (or completely unrelated to genealogy), we will be trying to create an online community of people who regulate themselves, much as they do (very successfully) on Jewish Genealogy Portal on Facebook. 
What are the new guidelines?
There are just a few simple rules & guidelines to follow, which you can read here:https://groups.jewishgen.org/g/main/guidelines
Thank you in advance for contributing to this amazing online community!
If you have any questions, or suggestions, please email support@JewishGen.org.
Sincerely,
The JewishGen.org Team
---
If portraits probably taken Europe are printed what appears to be
English stock, I'd assume that they were prints from the original film,
made later on in England. You have to remember that photographic
technique was quite different in pre-digital times.
Eva Lawrence,
St Albans, UK.
--
Eva Lawrence
St Albans, UK.
---
I have several of those.  The ones I have that have English printing on them were taken on the lower east side in NYC.

Robert Hanna
NYC
---
I think there must be many ways to corrupt gedcom files. I am guilty of several travesties on ancestry - question marks, quotes, parens, hyphens, commas, and I despair of being able to correct what needs correction. Is there a "Gedcom for Idiots" source that someone could recommend? I don't know how to look at the file, or whether it is possible to correct it without making matters worse. I have a big tree (7000-ish), and did not recognize the problems that I might be causing by editorializing in the critical fields, but correcting every entry is very daunting. I don't speak technie, so please have pity! 
--
Susan Cullen SCHWARTZ
---
---
Church St Richmond, is in Melbourne.
--
Stephen Schmideg
Melbourne, Australia
stephen@...
---
​80 years since the destruction of the Jewish community of Mazheik (Mazeikiai) in Lithuania - new article #lithuania #holocaust
On the 9th day of the Jewish month of Av, Jewish people around the world fast and read the scroll of Lamentations (Megillat Eicha) in memory of the destruction of the Holy Temple in Jerusalem twice, approx. 2,600 and 2,000 years ago. 
On the next day, the 10th day of Av, we shall mark 'just' 80 years since the destruction of the Jewish community of Mazheik, the town of our ancestors. On this day (3rd of August, 1941), the men of Jewish community were shot to death and buried in mass graves next to the local Jewish cemetery. Six days thereafter, on the 16th of Av (19th of August, 1941), the same fate happened to the women and children of this community in the same place. 
Eighty years after this disaster, and in order to commemorate this day, we - descendants of members of the Jewish community of Mazheik - wrote an articleon the subject of:
"The Legacy of a Jewish Community – its Preservation and Inheritance - Mazheik as an example".
The article was written by Dr. Ephraim Lapid in collaboration with Ilan Ganot, translated into English by Raymond Ravinsky and uploaded to the Mazheik Memorial Website (MMWS) by Richie Baum, volunteer at the JewishGEN KehilaLinks project.
The article can be viewed at the following links:
In English:
https://kehilalinks.jewishgen.org/Mazeikiai/InheritanceofHeritageMazheikEnglish.pdf
In Hebrew:
Ilan Ganot and Raymond Ravinsky
co-webmasters, Mazheik Memorial Website (MMWS)
https://kehilalinks.jewishgen.org/mazeikiai/introduction.html
"How doth the city sit solitary, that was full of people! How is she become as a widow! She that was great among the nations, and princess among the provinces, how is she become tributary!" (Scroll of Lamentations [Megillat Eikhah] 1:1)
---
The forward slash is to offset the family name.
I have not tried, but I think the software (Ancestry) should
have refused the forward slash as part of the name.

The exported  GEDfile  line comes out as
I suggest looking at the exported file.
If all the names appear, then the download, worked and

can be repaired. The slash can be changed to a dot (.),
but check that it loads correctly before changing all the

names.
ALWAYS copy the file as a backup and work on only one of the

files. Save the corrected file often so you can go

back to a later more corrected version.
Good luck
When you start to read readin,
how do you know the fellow that
wrote the readin,
wrote the readin right?

Festus Hagen
Long Branch Saloon
Dodge City, Kansas
(Gunsmoke)
toggle quoted message

Show quoted text
On Sunday, July 18, 2021, 3:51:08 AM GMT+3, Victoria Fisch <victoriafisch@...> wrote:
For some reason I recently began to use a forward slash mark to separate Anglicized or American names from Hebrew names in the first name box on Ancestry. Today I discovered that using a slash mark on Ancestry can corrupt a downloaded Gedcom.
DO NOT separate multiple names using a forward slash mark in either the first name box OR the surname box.
If you do, when you download your Gedcom, the slash mark will tell the file to separate the double or triple first names, jump one of the first names to the surname box, and delete the original surname.
When you upload the Gedcom back into an Ancestry account, the last name will now be missing and one of the first names will be in the surname box.
Victoria Fisch
Sacramento CA
---
A google search for "Gedcom forward slash" indicates this seems to be true of all Gedcoms - not only on Ancestry - a forward slash is part of the Gedcom syntax for separating the given name from the surname
--
Odeda Zlotnick
Jerusalem, Israel.
---
Gedcom corruption error on Ancestry #general
For some reason I recently began to use a forward slash mark to separate Anglicized or American names from Hebrew names in the first name box on Ancestry. Today I discovered that using a slash mark on Ancestry can corrupt a downloaded Gedcom.
DO NOT separate multiple names using a forward slash mark in either the first name box OR the surname box.
If you do, when you download your Gedcom, the slash mark will tell the file to separate the double or triple first names, jump one of the first names to the surname box, and delete the original surname.
When you upload the Gedcom back into an Ancestry account, the last name will now be missing and one of the first names will be in the surname box.
Victoria Fisch
Sacramento CA
---
Paul,
I think this is your father:
EHRMANN KURT : Service Number - V377498 : Date of birth - 11 Jul 1922 : Place of birth - COLOGNE GERMANY : Place of enlistment - CAULFIELD VIC : Next of Kin - EHRMANN H
There is more than one Richmond in Australia, certainly one in Melbourne NSW and another in Sydney NSW. Given Kurt enlisted in Caulfield, a suburb of Melbourne Victoria, I would expect it is Richmond in Victoria. Distance Melbourne - Sydney is 1,000km give or take.
You can search within the archives here - https://recordsearch.naa.gov.au/SearchNRetrieve/Interface/DetailsReports/ItemDetail.aspx?Barcode=6255338&isAv=N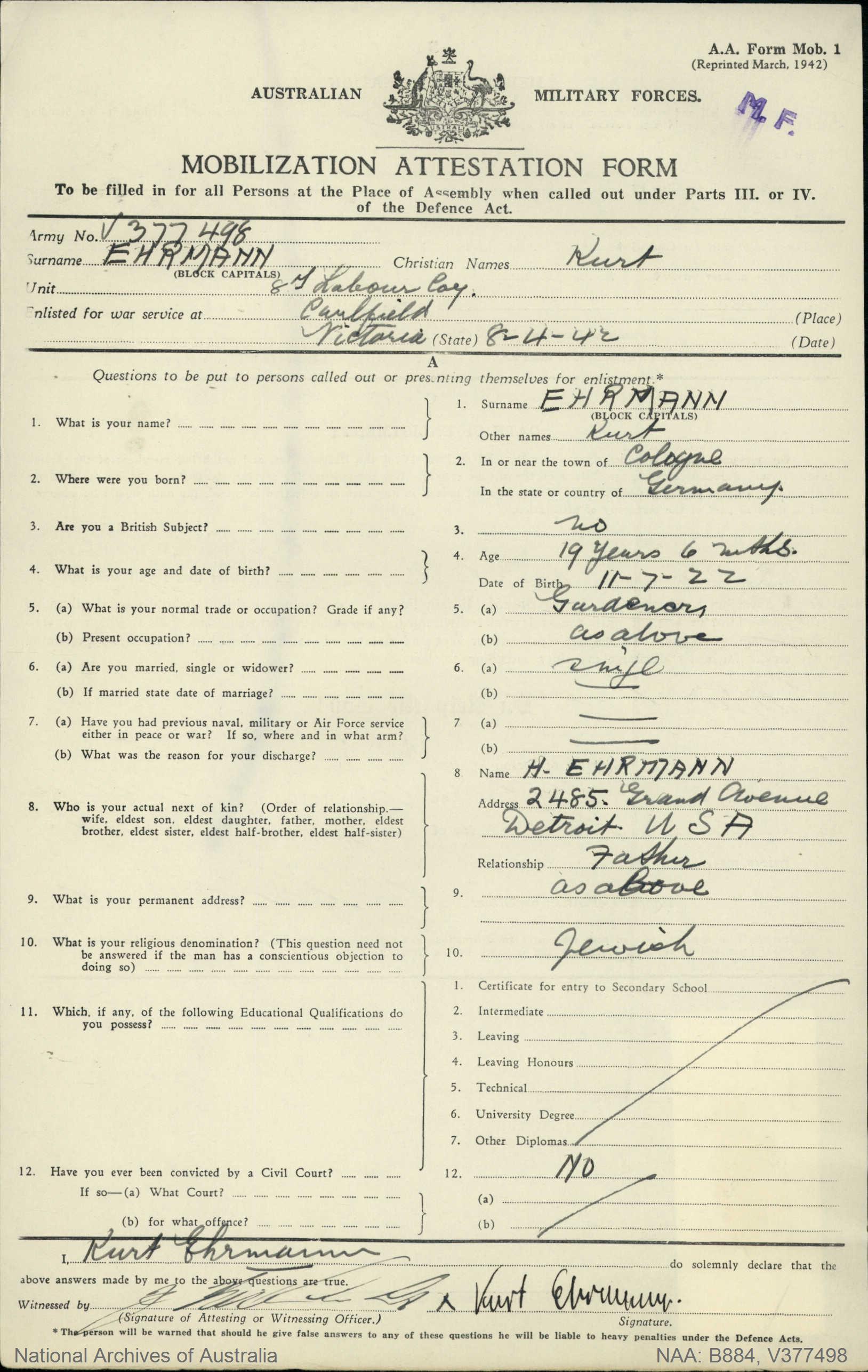 --
Pieter Hoekstra 
Moss / Moses, De Costa - London and Brighton
Barnett, Da Costa, Lazarus, Joseph, Judah, Solomon - London


---
---
Use of English by European Photo Studios #general
I have several early 20th century photos printed on card stock with the words "Cabinet Portrait" in English.  But it would make sense that some of these photos were taken in Europe.  Does anyone know if European photographers ever used English printing on their card stock? 
Any input appreciated.  
Rusty Wilson
Researching:
KRASNY
PLOTKIN
OBUKOWSKY
KARNOWSKY
---
Request for information on Father after WW2 in Australia #general
THIS IS A REVISED VERSION
Our Father Kurt Ehrmann was an enemy/friendly alien (Germany-England via KT-HMT Dunera-Australia) private the Australian Army and served in the Employment company in Australia (AEC) formally enlisting in Spring of 42
He came to the US in the Spring of 46 after his discharge in 45 from the AEC. 
According to documents, we believe he spent some time in two places during the year he was delayed in leaving Australia for the US on the SS Matson for his 3 week trip to SF
We know that 
1. He spent some time in Richmond (Church street)..believe in southernmost Australia??
and then we believe at some point he
2. traveled up north and stayed a second place and believe he embarked on the SS Matson for his 3 week journey to SF which we believe left from Melbourne or Sydney in spring of 46 (we have original ship manifest w his name on it)
I know it is a long shot, but would be appreciative if anyone has any knowledge during this time period Spring 45 and beyond any organization that might have been responsible for finding housing of men in Australia from the time from discharge to their final destination.
Thanks 
Paul Ehrmann
ehrmann.paul@...
---
The first step in understanding a record that has been identified by reviewing an indexing project should be to review the original document.  In this case the original document may be found in the Grodek Jewish birth records available at FamilySearch.
In the box showing the child's name in this document are the names of the sandek and (I believe) the midwife.  In a box with the heading "Parentes" the names of the child's mother and father are listed. In a box with the heading "Patrini" are found the "godparents."
Thus, the term "Godparents" does not refer to the sandek in this record.  It is not clear to me whether the couple named as Godparents  are relatives or not.  This couple would likely be important people in the town, if not relatives.
In any case, the woman named here (the "Godmother"—sometimes called "kwatterin") would bring the baby from the mother and then hand the baby to the man named here (the "Godfather"—sometimes called "kwatter").  The "Godfather" would the bring the infant in and place him on the Chair of Elijah or hand the infant to the mohel or to the child's father.
Regarding Freude's maiden name, looking the JRI-Poland's indexes shows a Brzezany marriage record for Uscher Stahl and Freude Feintuch in 1879. Uscher Stahl's father was Hersch Leib Stahl. Thus, the infant you mentioned would likely be named after Uscher's father. Whether or not Freude's mother might have been a Parnes is not clear without further research.
Stephan Parnes
Great Barrington, MA
toggle quoted message

Show quoted text
On Jul 13, 2021, at 3:34 PM, Nikki Nafziger <nikkinashmusic@...> wrote:




I found my great grandfather's birth record in the all Galicia database. It listed Moses and Elkie Parnes as Godparents 1 and 2 (given names and surnames). I didn't think Jews had Godparents. … Please help me understand the translation/meaning of Godparents.  Thank you. (Nikki Drex by

_._,_._,_
---
Izrail and Bogdana had 3 sons, Aron, Pavel born 1859, and Ilya born 1875. There were 6 daughters, Gena, Alexandra, Anna, Ekaterina,Rosa, Aksiniya and Cecilia. ages unknown.
I am connected to Pavel Izrailovic Ratner who married my Great Aunt Ita Julia. I also believe that my Great Grandmother, Julia's mother belonged to the Ratner family as Ratner was her maiden name. Was Pavel her nephew or cousin?
I would be very grateful to find the connection. I know that Pavel and Julia died in Paris where they lived since leaving St Petersburg in ? 1917.
Joel Ratner has edited this information on Genealogical Indexer. Could we be connected?
Kind Regards,
Patricia Lane
Sydney
MODERATOR NOTE: Please reply privately
---
Re: reconciling difference between family lore and Arolsen Archive information #france #holocaust
Hi Aline
As far as I know Mittelbau-Dora was a subcamp of Buchenwald not of Auschwitz. There is a website about Buchenwald and Mittelbau-Dora.
https://www.buchenwald.de/en/69/
https://www.buchenwald.de/en/29/
At the end of the war many prisoners from Auschwitz were sent to other camps like Mauthausen, some with trains, but many on the so-called "death march".
The Arolsen Archives have some records of Mauthausen online, but there is also a website about Mauthausen camp.
https://www.mauthausen-memorial.org/en
The deceased of the Mauthausen Concentration Camp
https://raumdernamen.mauthausen-memorial.org/?L=1
Did you seearch with different spellings of the surname on the Arolsen Archives? Sometimes I found one and the same person with different spellings there.
Regards
Corinne Iten
Switzerland
---
Check out reclaimtherecords.org as they battle both NY state and NY city for release of records.  See if they have records from this time period.

Johanna Becker
Newport, RI
---
Uzbekistan is a central Asian nation and former part of the Soviet Republic. As reported by the Jerusalem Post, it is now officially researching and documenting its Jewish community. Jews have there since the region was crushed by the hooves Genghis Khan's horses.  "This also includes hundreds of thousands of Jews who managed to escape the chains of Germany's Panzer tanks."

When the Nazis invaded the Soviet Union, Uzbekistan opened its doors to Jews and other fleeing the Germans.

As reported, "The Central State Archive of the Republic of Uzbekistan has been instructed to make information about the lives of Jews during World War II and before available to the public. The archive is also currently in the process of signing an agreement with the Central Archives for the History of the Jewish People in Jerusalem, and soon afterward also with Yad Vashem."
Almost "every family in Uzbekistan was affected by World War II, as the country was still part of the Soviet Union at the time. More than 580,000 Uzbek nationals lost their lives, including tens of thousands of Jews. Some 100,000 Soviet factories in areas conquered by the Wehrmacht were relocated to Uzbekistan. These factories produced arms and ammunition, which were then shipped to the front. Most importantly, Uzbekistan became a sanctuary for refugees fleeing from Russia, Belarus, Ukraine, Poland and Serbia." It was the Uzbek tradition of hospitality that saved 1.5 million people, including over 200,000 Jews.
The Uzbekistan archives website is located at: https://archive.uz/
If you use Chrome as your browser it will provide English translation to some of the material. If not use a translation service such as google translate https://translate.google.com/
or DeepL  https://www.deepl.com/en/translator
More information on the Archives, not Jewish-specific may be seen at:
http://open-archives.org/en/countryresult/result/14/

To read more see:
https://www.jpost.com/diaspora/jewish-uzbek-historical-archives-open-up-to-the-public-673217
Jan Meisels Allen
Chairperson, IAJGS Public Records Access Monitoring Committee
---
---
The question of denomination is very important, as is a name of the country in a particular period.  I have heard, more than once that there are more than 40 different distinct world-wide denominations of Jews,  I would also suggest that Reform in Great Britain is different to in the USA. On my side of the Atlantic Reform and Liberal share the same Rabbinic training and these people will often change from congregations of one to the other and maybe back again.  Likewise, if a person moves to a different town and there is no congregation of their preferred variety within (what is deemed) a reasonable travel distance, there may only be one congregation to join.  However our pandemic with services on Zoom is making it easier to join in services of the flavour that you prefer.  A pretty face may also result in a change of allegiance.
As young marrieds with a child we alternated festival celebrations with another couple and could not devise an alternative to "Godparents" to our mutual agreements (in our wills) that if one couple died then the other would take on the care of the other's children who were already very used to them.   Nearly 55 years later, I am the only parent of the four still alive, but with that same relationship to the other children, it may not be rare.
David Harrison
Birmingham, England.
toggle quoted message

Show quoted text
---
From:
main@... <main@...> on behalf of jbonline1111@... <jbonline1111@...>
Sent:
15 July 2021 19:22
To:
main@... <main@...>
Subject:
Re: [JewishGen.org] Godparents? #galicia
No one has mentioned what denomination of Judaism their family was part of. I wonder if Reform Judaism had a period in which it used godparents, maybe around the time when worship was moved to Sundays and there were no Bar/Bat Mitzvot.
--
Barbara Sloan
Conway, SC