Messages
JewishGen.org Discussion Group FAQs
What is the JewishGen.org Discussion Group?
The JewishGen.org Discussion Group unites thousands of Jewish genealogical researchers worldwide as they research their family history, search for relatives, and share information, ideas, methods, tips, techniques, and resources. The JewishGen.org Discussion Group makes it easy, quick, and fun, to connect with others around the world. 
Is it Secure? 
Yes. JewishGen is using a state of the art platform with the most contemporary security standards. JewishGen will never share member information with third parties.
How is the New JewishGen.org Discussion Group better than the old one?
Our old Discussion List platform was woefully antiquated. Among its many challenges: it was not secure, it required messages to be sent in Plain Text, did not support accented characters or languages other than English, could not display links or images, and had archives that were not mobile-friendly.
This new platform that JewishGen is using is a scalable, and sustainable solution, and allows us to engage with JewishGen members throughout the world. It offers a simple and intuitive interface for both members and moderators, more powerful tools, and more secure archives (which are easily accessible on mobile devices, and which also block out personal email addresses to the public).
I am a JewishGen member, why do I have to create a separate account for the Discussion Group?
As we continue to modernize our platform, we are trying to ensure that everything meets contemporary security standards. In the future, we plan hope to have one single sign-in page.
I like how the current lists work. Will I still be able to send/receive emails of posts (and/or digests)?
Yes. In terms of functionality, the group will operate the same for people who like to participate with email. People can still send a message to an email address (in this case, main@groups.JewishGen.org), and receive a daily digest of postings, or individual emails. In addition, Members can also receive a daily summary of topics, and then choose which topics they would like to read about it.  However, in addition to email, there is the additional functionality of being able to read/post messages utilizing our online forum (https://groups.jewishgen.org).
Does this new system require plain-text?
No. 
Can I post images, accented characters, different colors/font sizes, non-latin characters?
Yes.
Can I categorize a message? For example, if my message is related to Polish, or Ukraine research, can I indicate as such?
Yes! Our new platform allows members to use "Hashtags." Messages can then be sorted, and searched, based upon how they are categorized. Another advantage is that members can "mute" any conversations they are not interested in, by simply indicating they are not interested in a particular "hashtag."
Will all posts be archived?
Yes. 
Can I still search though old messages?
Yes. All the messages are accessible and searchable going back to 1998. 
What if I have questions or need assistance using the new Group?
Send your questions to: support@JewishGen.org
How do I access the Group's webpage?
Follow this link: https://groups.jewishgen.org/g/main
So just to be sure - this new group will allow us to post from our mobile phones, includes images, accented characters, and non-latin characters, and does not require plain text?
Correct!
Will there be any ads or annoying pop-ups?
No.
Will the current guidelines change?
Yes. While posts will be moderated to ensure civility, and that there is nothing posted that is inappropriate (or completely unrelated to genealogy), we will be trying to create an online community of people who regulate themselves, much as they do (very successfully) on Jewish Genealogy Portal on Facebook. 
What are the new guidelines?
There are just a few simple rules & guidelines to follow, which you can read here:https://groups.jewishgen.org/g/main/guidelines
Thank you in advance for contributing to this amazing online community!
If you have any questions, or suggestions, please email support@JewishGen.org.
Sincerely,
The JewishGen.org Team
---
Hi trudy,
My great grandparents had a child die (stillbirth or a day or 2 later) and I found the record accidentally on familysearch.org when I was looking for more info on my great grandparents. It did give me the information for a cemetery, Silver Lake Cemetery in Staten Island, NY is where a lot of Jews and children were buried. To my surprise it was not in the same cemetery as my great grandparents or the rest of the family. The land for Silver Lake was donated. I contacted the cemetery and they said I had more information than they did and could not point me to a specific grave. Children were frequently buried between graves or in any available space. Markers were small and some may be illegible years later. Try plugging in the parents names on a random search on various sites and see what you find. Interestingly, when I found out this information and told my brother, he knew. My grandmother was very young at the time and she remembered the death and mentioned it just once to my brother but he didn't think of telling me and essentially forgot about it. 
Michele Farkas
Boynton Beach, FL (formerly NY)
Searching Farkas, Izsak, Weiszhauz, Tuaszig, Rosenfeld: Romania, Transylvania, Hungary
Searching: Kaufman, Horowitz, Gurvich, Leykin, Rosen: Minsk and NY
---
Please read from Randy Schoenberg: I'm donating $25k to support JewishGen2.0. Here's why. #JewishGenUpdates
(Please see a message below from Randy Schoenberg, which I am sending on his 
behalf
)
Dear Friends,

I want to tell you how thrilled I am with Avraham Groll's announcement of the JewishGen 2.0 plan. As you may know, JewishGen is overseen by a skeletal staff and with the help of extremely dedicated volunteers. The 2.0 plan will allow JewishGen to enter a new stage of growth and development – with the most important goal of benefitting you. You will have new tools, new features, and a great, modern experience on a site that is mobile friendly.

Because of this, I am donating $25k in support of this effort. Please join me with a gift of any amount today. All donations are being matched 1:1 up to $50k, so your support will mean a lot.

If you can't donate online, please call the main JewishGen number at 646-492-5972, and a team member will process your gift over the phone.
Thank you for partnering with me and JewishGen in support of JewishGen2.0. 
It is the single most significant initiative undertaken by JewishGen in decades
. With your help, we will be successful.
Sincerely,

Randy 

Schoenberg
JewishGen Board Member
Director of the Austria-Czech Research Division
---
Re: Free Webinar: Translating Russian Documents for the Non-Russian Speaker #JewishGenUpdates
Is it still possible to access the slides and handouts from this webinar?

Thanks
--
Shoshanah Glickman
Gateshead, UK

MODERATOR: 
Yes. It will  be available on our Facebook page and YouTube channel.
---
I followed with interest the thread here seeking thoughts about any clues that could be gleaned from an old family photograph, so I thought I would ask about an instance of my own that perplexed me. My late mother left a big basket of family photos. Nearly all of them were of her Kimmel family. (She was the daughter of Barnett Kimmel and Rachel Zlotnick). But what appeared to be the oldest photo in the basket looked nothing like the other Kimmel  (for one thing, none of the men in her Kimmel photos had a beard) and I jumped to the assumption that it had to be Rachel's father, Jacob Zlotnick. As you can see, it's the kind of photo immigrants often took to send home to show how well they were doing. The fly-in-the-ointment about that guess is that Jacob had two sons, but if my records are correct, they were 14 years apart in age which the two young men in the photo obviously are not. The back of the photo does have the name of the studio (G. Grossman at 60 Suffolk Street) but unfortunately no date.

--
Bruce Drake
Silver Spring, MD

Researching: DRACH, EBERT, KIMMEL, ZLOTNICK
Towns: Wojnilow, Kovel
---
Dear Friends,

On this Giving Tuesday we are proud to announce our JewishGen 2.0 initiative, which will completely modernize the JewishGen website and user experience. Records will be found more easily, the website will be mobile friendly, and tools that researchers have come to expect will be available. In addition, JewishGen 2.0 will increase the security of our website, make it easier for volunteers to load and update data, and ultimately, it will minimize our reliance on outdated technologies. This last point is critical, since it will allow JewishGen to build new features and tools, in a sustainable and scalable fashion.

A project of this scale requires significant investment - nearly $750k. So far, we have raised about $300k, and now turn to you, our dear JewishGen members, for your support, involvement, and partnership.

Today we are trying to raise $50k in support of JewishGen 2.0. Thanks to a generous donor, all donations will be matched 1:1 - so your gift will effectively be doubled! If we can reach our goal, we will have raised $100k today, which will be incredibly helpful in support of this project.

If you can do so, please click here to donate now. A gift of any amount will make a huge difference. When donating, you can do so in honor/memory of a loved one or friend. As always, a membership gift of $100 will qualify for Value Added Services (which include enhanced search features). 

Please help us improve and grow as we continue to remain devoted to our core mission of preserving our Jewish family history and heritage for future generations. JewishGen has impacted thousands of people –  we need your help to continue.

If it is not practical to donate online, a check made payable to JewishGen may be sent to:
JewishGen
Project JG 2.0
36 Battery Place, New York, NY 10280

Alternatively, you may call us at 646-494-5972, and we would be glad to process your gift over the phone.

Thank you in advance for your support of JewishGen's important work and for our 2.0 Campaign - we are laser focused on making this happen, but  we can't do this without you. If you would like more information, please feel free to call me at 646-437-4326 or email me at agroll@.... 

Sincerely and wishing everyone a Happy Chanukah,

Avraham Groll
Executive Director
JewishGen.org
---
---
Search our the Kalib (also rendered Kaliber) Chasidic dynasty - the Rebbe, that I knew of, passed away a few years ago. He from the TAUB family and was a Holocaust survivor. His lack of beard was a living demonstration of the tortures he endured but he was able to continue to endure this with "joy" thus was able to survive did not let the nazis break him mentally. Over the decades, he visited synagogues, educational institutes, work places and prisons in Israel and around the world where there were Jews who would come and listen to him. Where I was, he would always teach a niggun (chassidish tune and have all participants stand up and say together "Sh'ma Yisrael ,Ado-nai Elo-hainu, Ado-nai Ekhad" (a verse from the Torah which is fundamental of Jewish faith and said by practicing Jews at least twice a day).
More information concerning this rebbe as well as other offshoots of this dynasty, I am sure you can find by searching online, and with this hopefully you might find contacts who can tell you how you fit in (assuming all TAUBs from Hungary are of the same family).
 --
David Ziants
Ma'aleh Adumim, Israel
---
Hi Paul,
there is a catalog-entry in familySearch, 11 micro-fiches. It is called Matrikel 1769-1880, author:
Jüdische Gemeinde Königsberg (Ostpreußen)
In 007990042 "Geburten, Heiraten, Tote 1811-1874" where you find the Kaliningrad-records in Findbuch 176 (picture 170 and following). It starts with birth-records left and marriages right in alphabetical order. The letter L starts pic 244. From picture 342 start the death-records, but backwards beginning with year 1872.
Best regards
Ines Klein
Germany
---
Martin Fischer
An online searchable database of the Chicago Jewish Post and Opinion newspaper (August 1962-December 1981) is now available online as part of the Illinois Digital Newspaper Collections website thanks to the University of Illinois and a bequest to the Jewish Genealogical Society of Illinois from the estate of Peggy Morrow, z''l. 
Peggy, who for many years was the editor of Morasha, the Jewish Genealogical Society of Illinois newsletter, passed away in 2019. 
--
Martin Fischer
Vice President-Publicity
Jewish Genealogical Society of Illinois
JGSI website: 
https://jgsi.org
---
Trying to make contact with the family Avraham Elmelech Landman who
has ao son Aharon Yosef living in London and YomTov Lipman Landman
living in Antwerp, a well as other children. They trace back to the
Weisblum Chassidic rabbinical family.
Neil Rosenstein
---
GJSCNY - Free Virtual presentation by Libby Copeland, about her book The Lost Family. Sunday, December 12th, 2021 at 1:00 p.m. EST #announcements #events #dna
The Jewish Genealogical Society of CNY invites you to a free Zoom presentation by Libby Copeland about her book The Lost Family on December 12th at 1:00 P.M. EST.
The book: A deeply reported look at the rise of home genetic testing and the seismic shock it has had on individual lives
You swab your cheek or spit into a vial, then send it away to a lab somewhere. Weeks later you get a report that might tell you where your ancestors came from or if you carry certain genetic risks. Or the report could reveal a long-buried family secret and upend your entire sense of identity. Soon a lark becomes an obsession, an incessant desire to find answers to questions at the core of your being, like "Who am I?" and "Where did I come from?" Welcome to the age of home genetic testing.
In The Lost Family, journalist Libby Copeland investigates what happens when we embark on a vast social experiment with little understanding of the ramifications. Copeland explores the culture of genealogy buffs, the science of DNA, and the business of companies like Ancestry and 23andMe, all while tracing the story of one woman, her unusual results, and a relentless methodical drive for answers that becomes a thoroughly modern genetic detective story.
The Author: Libby Copeland is an award-winning journalist who writes about culture, science and human behavior. Copeland was a reporter and editor at the The Washington Post for eleven years, has been a media fellow and guest lecturer, and has made numerous appearances on television and radio.
If you are local to the Central NY area, we are happy to tell you that the book has been made available at the ONLY independent bookstore in Onondaga County, The Golden Bee, in Liverpool. The store also has bookplates that have been signed by Libby.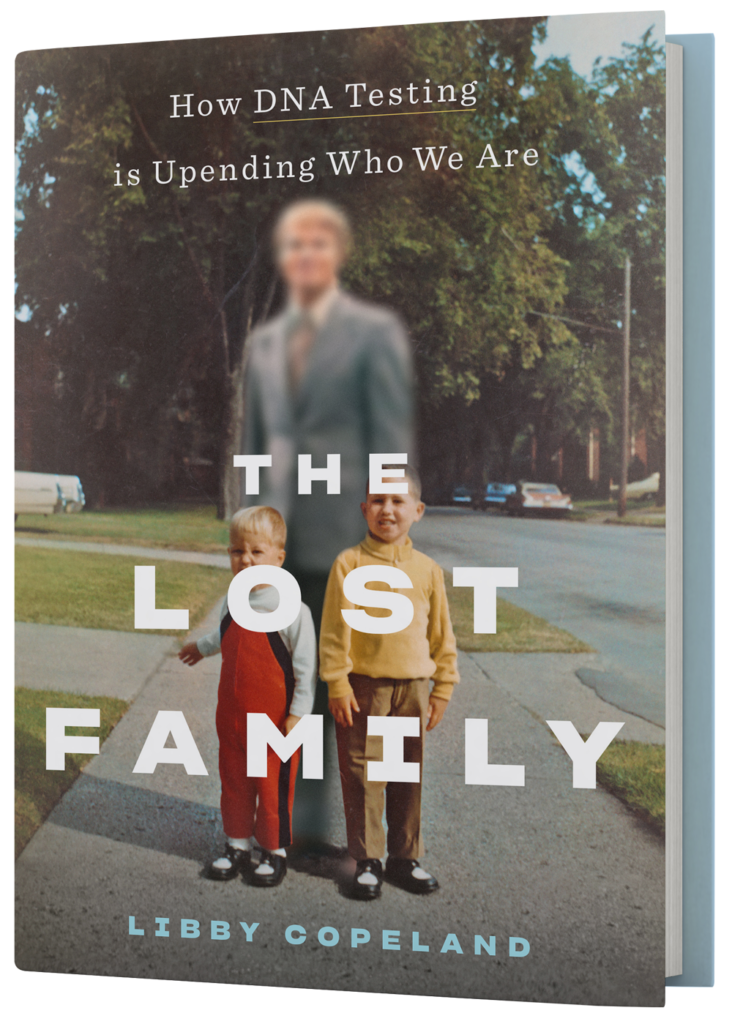 Register in advance for this meeting:
https://us02web.zoom.us/meeting/register/tZIoce2qrzoqH9OA9Dxvx_BDhMynWdLfa1Q2 
After registering, you will receive a confirmation email containing information about joining the meeting.
Yonat Klein
Syracuse NY
---
Hi Ben, how have you been? I've had a similar situation in my own research, with a relative apparently in Paris and in Lodz simultaneously. It turned out that they were in fact two people, cousins with the same name.
Given that you know your ancestor was definitely in the U.K., it seems likely that the Wolf FURMAN in Lodz was probably a cousin. If you look at both the US Holocaust Museum and Yad Vashem websites, you'll see that there was a Wolf FURMAN of the right age listed in the Lodz Ghetto, who died in the ghetto in 1943. In the USHMM website you can request copies of the original documents and get them instantly to your email address, which I suggest you do. The address registration documents will show you with whom he was living and other useful details. His death document will state the name of his wife and may state the names of his parents. In the Yad Vashem website you can see if anyone submitted a Page of Testimony to commemorate him, which may lead you to further connections. And if you should discover that he was in fact a cousin and that no one in his family remained alive to commemorate him, you would be doing a mitzvah by remembering him. Links below:

https://www.ushmm.org/online/hsv/person_advance_search.php
Good luck with your research and Chag Chanukah Sameach to all,

Miriam Bulwar David-Hay,
Raanana, Israel.
Professional journalist, writer, editor, proofreader.
Professional translator (Hebrew/Yiddish to English).
Certified guide, Yad Vashem Holocaust Memorial and Museum.
Email: 
miriambdh@...
Researching: BULWA/BULWAR (Rawa Mazowiecka, Lodz, Paris); 
FRENKIEL/FRENKEL, FERLIPTER/VERLIEBTER (Belz); 
KALUSZYNER, KUSMIERSKI, KASZKIET, KUZKA, JABLONKA, RZETELNY, WROBEL (Kaluszyn, Lodz); KRYSKA/KRYSZKA, CHABIELSKI/HABELSKI (Sieradz, Lodz); LICHTENSZTAJN (Kiernozia, Wyszogrod, Lodz); ROZENBERG (Przedborz, Lodz); WAKS (Nowe Miasto nad Pilica, Lodz); PELCMAN, STORCZ (Rawa Mazowiecka); SOBEL (Paris); SAPIR/SZAFIR (Wyszogrod).  
---
Ben,
It looks like the Wolf FURMAN that you found from 
Kałuszyn
 was still in Lodz and died there in 1943.
https://www.jewishgen.org/databases/jgdetail_2.php
Name
Address

---

Occupation
Born
Died

---

<ahref="http: www.jewishgen.org="" databases="" holocaust="" 0093_lodz-hospital-causes-of-death.html"="">Cause</ahref="http:>
Comments
Source
List Date
Page
Line
FURMAN, Wolf
5 Str. 26 

---

Händler 
1877 
Kałuszyn 
10-Jun-1943 

---

Herzmuskelentartung 
 
Hospital Records 
04-Oct-1943 
1 
19 


Perhaps you can find this Wolf's mother's name to help you search the family further. If the father's of both Wolf FURMAN's did have the same name, cousins maybe?
Good luck in your search,
Sherri Bobish
Searching: RATOWSKY / CHAIMSON (Ariogala / Ragola, Lith.)
WALTZMAN / WALZMAN (Ustrzyki Dolne / Istryker, Pol.)
LEVY (Tyrawa Woloska, Pol.)
LEFFENFELD / LEFENFELD / FINK, KALTER (Daliowa/ Posada Jasliska, Pol.)
BOJDA / BERGER (Tarnobrzeg, Pol.)
SOKALSKY / SOLON / SOLAN / FINGER(MAN) (Grodek, Bialystok, Pol.)
BOBISH / APPEL (Odessa?)
---
Ann,
Perhaps this place which is 82 miles SE of Warszawa:
https://www.jewishgen.org/Communities/community.php?usbgn=-515689
Markuszów [Pol], Markushov [Yid], Markushuv [Rus], Markushev
Region: Lublin
Or, this which is 28 miles from Warsaw:
https://www.jewishgen.org/Communities/community.php?usbgn=-517546
Mszczonów [Pol], Amshinov [Yid], Mshchonuv [Rus], Amshenev
Region: Warszawa
Good luck in your search,
Sherri Bobish
Searching: RATOWSKY / CHAIMSON (Ariogala / Ragola, Lith.)
WALTZMAN / WALZMAN (Ustrzyki Dolne / Istryker, Pol.)
LEVY (Tyrawa Woloska, Pol.)
LEFFENFELD / LEFENFELD / FINK, KALTER (Daliowa/ Posada Jasliska, Pol.)
BOJDA / BERGER (Tarnobrzeg, Pol.)
SOKALSKY / SOLON / SOLAN / FINGER(MAN) (Grodek, Bialystok, Pol.)
BOBISH / APPEL (Odessa?)
---
Sophia,
You want to find the family on census, vital records, passenger manifests, naturalization records, WW1 draft cards and the WW11 "old man" draft cards, etc.  These records can be searched online at the free site
www.familysearch.org
and on 
www.ancestry.com
Check if your local library has an Ancestry subscription.  Ancestry is allowing access on home computers through the end of December.
This is their 1923 Ohio marriage record with Max and Anna's parents names.  Obviously, the parents names are Americanized.  You may find Max and Anna's Hebrew names and those of their fathers on their tombstones.  That info will help you to find passenger manifests, and once you find their towns of birth knowing the Hebrew names will help you find records from there.
| | |
| --- | --- |
| Name: | Mr Max Hoffman |
| Marriage Date: | 1 Dec 1923 |
| Form Type: | Marriage |
| Age: | 29 |
| Gender: | Male |
| Birth Year: | abt 1894 |
| Birth Place: | Russia |
| Father: | Sam |
| Mother: | Sarah Kravitz |
| Spouse: | Miss Anna Kurtz |
| Spouse Age: | 21 |
| Spouse Birth Year: | abt 1902 |
| Spouse Father: | Meyer |
| Spouse Mother: | Rose Klein |
On the 1940 census the surname transcribed HEFFMAN.
Eldest 2 children born OH, youngest born MI.  So, they came to MI between 1927 and 1931.  That info will help you to focus your search, especially since the name is so common.
You can view the full census page, with much more data, on either of the sites I mentioned above.
Sanford's marriage is found on Ancestry:
| | |
| --- | --- |
| Name: | Sanford H Hoffman |
| Gender: | Male |
| Race: | White |
| Age: | 26 |
| Birth Date: | abt 1926 |
| Birth Place: | Cleveland, Ohio |
| Marriage License Place: | Wayne |
| Marriage Date: | 8 Nov 1952 |
| Marriage Place: | Detroit, Wayne, Michigan, USA |
| Residence Place: | Detroit, Michigan |
| Father: | Max Hoffman |
| Mother: | Anna Kurtz |
| Spouse: | Phyllis S Cherrin |
| County File Number: | 837534 |
| State File Number: | 514932 |
There were two Sanford HOFFMAN's in Detroit at the time.  Their parents names are different though.  
I'm sure as you search further that you will find documents that give you Max and Anna's towns of birth.
Towns in Eastern Europe and The Russian Empire changed country often, and usually went by several different names in various languages.  Once you find a town of birth written somewhere you can search for the town and it's modern name at:  
https://www.jewishgen.org/Communities/Search.asp
Hope this info helps you in your research,
Sherri Bobish
Searching: RATOWSKY / CHAIMSON (Ariogala / Ragola, Lith.)
WALTZMAN / WALZMAN (Ustrzyki Dolne / Istryker, Pol.)
LEVY (Tyrawa Woloska, Pol.)
LEFFENFELD / LEFENFELD / FINK, KALTER (Daliowa/ Posada Jasliska, Pol.)
BOJDA / BERGER (Tarnobrzeg, Pol.)
SOKALSKY / SOLON / SOLAN / FINGER(MAN) (Grodek, Bialystok, Pol.)
BOBISH / APPEL (Odessa?)
---
My great-grandparents both came from a shtetl in Vitebsk called Kolyshki.  I am looking for information on their families and have been unable to locate anything.  Does anybody in this group have ancestors who came from Kolyshki?  

Marcy Kalvelage
---
Hi from Paris,
In France, a divorce is recorded on wife's & husband's vital records registered in France.
on their birth vital records but in your case, they weren't born in France
on their mariage record in France, but they weren't married in France
perhaps on their death record if death was declared by a second wife, I am not sure.
Concerning the divorce note sent to France, it could have been sent to a lawyer (to prepare for a second mariage) or to prepare a naturalization file.
If it had been sent to any French administration, there is no way to find it (only by report to vital records as written above).
But some traces of this divorce could be found if these persons stayed in France for some part of their life :
another mariage
naturalization file
birth vital record of a child (the fact that the mother or the father was divorced should be noticed)
With identities of these persons and some data from you, we could do some check, you can send by private message.
Khavershaft
Bernard Flam
Archives & history of Medem Center / Arbeter Ring of France (Bund / Worker Circle)
Weekly workshop of Jewish genealogy (France & Yiddishland)
---
Hi from Paris,
Dear Ben,
This census had been initiated by German occupation administration of Lodz in 1916.
That's reason why these cards are printed in German and Polish.
After 1919 (Treaty of Versailles at WW1 end) and establishment of independent Poland, Polish administration used these census cards till 1921.
Then, administration switched to census in "Books of Residents" in 20's and early 30's.
These cards, these books and almost all vital records from 1820-1830 to 1939 are available in Lodz area , and also 800.000 pages of Lodz ghetto archives.
This means that you can recover almost all traces of your families in this area.
Most are now online in Polish State archives (without index), as you found it  
https://www.szukajwarchiwach.gov.pl/en/wyszukiwarka
Due to continuous work of JewishGen and JRI-Poland staff and volunteers, a large part of these archives have been indexed and are now available online.
Concerning your ancestor, if he was in Manchester and you have proof of this, then he was there.
No doubt.
Concerning the man on the registration card, he could be :
. a real homonym from another family
. a cousin of your GGF (same name, same given name) but from an unknown branch with a common ancestor from which was given ... the given name
. a person who used the identity of your GGF after his emigration to UK as a fake identity, knowing that it was little risk because your GGF had definitely emigrated abroad.
Khavershaft
Bernard Flam
Archives & History of Medem Center - Arbeter Ring of France (Bund / Worker Circle)
PS : I have Szmul Furman, born in 1912 in Warsaw,  in our deported members from Paris
---
Very impressive!
Do you, Gail, or you Jerry have pictures in which you can compare a male whom you know, in pictures with and without a beard?  It would be interesting to see how the software handles that.
--
Odeda Zlotnick
Jerusalem, Israel.
---
Regarding the twins, it is my understanding that in the US, Jews buried their stillborns. And it's usually bear a parent. That being said, if there was no money for such a burial, a Jewish Burial Society may have done the burial. In that case, the gravesite may be no where near a parent. In any event, there should be a death certificate even if the baby was not named.

Shelley Mitchell, NYC