Messages
JewishGen.org Discussion Group FAQs
What is the JewishGen.org Discussion Group?
The JewishGen.org Discussion Group unites thousands of Jewish genealogical researchers worldwide as they research their family history, search for relatives, and share information, ideas, methods, tips, techniques, and resources. The JewishGen.org Discussion Group makes it easy, quick, and fun, to connect with others around the world. 
Is it Secure? 
Yes. JewishGen is using a state of the art platform with the most contemporary security standards. JewishGen will never share member information with third parties.
How is the New JewishGen.org Discussion Group better than the old one?
Our old Discussion List platform was woefully antiquated. Among its many challenges: it was not secure, it required messages to be sent in Plain Text, did not support accented characters or languages other than English, could not display links or images, and had archives that were not mobile-friendly.
This new platform that JewishGen is using is a scalable, and sustainable solution, and allows us to engage with JewishGen members throughout the world. It offers a simple and intuitive interface for both members and moderators, more powerful tools, and more secure archives (which are easily accessible on mobile devices, and which also block out personal email addresses to the public).
I am a JewishGen member, why do I have to create a separate account for the Discussion Group?
As we continue to modernize our platform, we are trying to ensure that everything meets contemporary security standards. In the future, we plan hope to have one single sign-in page.
I like how the current lists work. Will I still be able to send/receive emails of posts (and/or digests)?
Yes. In terms of functionality, the group will operate the same for people who like to participate with email. People can still send a message to an email address (in this case, main@groups.JewishGen.org), and receive a daily digest of postings, or individual emails. In addition, Members can also receive a daily summary of topics, and then choose which topics they would like to read about it.  However, in addition to email, there is the additional functionality of being able to read/post messages utilizing our online forum (https://groups.jewishgen.org).
Does this new system require plain-text?
No. 
Can I post images, accented characters, different colors/font sizes, non-latin characters?
Yes.
Can I categorize a message? For example, if my message is related to Polish, or Ukraine research, can I indicate as such?
Yes! Our new platform allows members to use "Hashtags." Messages can then be sorted, and searched, based upon how they are categorized. Another advantage is that members can "mute" any conversations they are not interested in, by simply indicating they are not interested in a particular "hashtag."
Will all posts be archived?
Yes. 
Can I still search though old messages?
Yes. All the messages are accessible and searchable going back to 1998. 
What if I have questions or need assistance using the new Group?
Send your questions to: support@JewishGen.org
How do I access the Group's webpage?
Follow this link: https://groups.jewishgen.org/g/main
So just to be sure - this new group will allow us to post from our mobile phones, includes images, accented characters, and non-latin characters, and does not require plain text?
Correct!
Will there be any ads or annoying pop-ups?
No.
Will the current guidelines change?
Yes. While posts will be moderated to ensure civility, and that there is nothing posted that is inappropriate (or completely unrelated to genealogy), we will be trying to create an online community of people who regulate themselves, much as they do (very successfully) on Jewish Genealogy Portal on Facebook. 
What are the new guidelines?
There are just a few simple rules & guidelines to follow, which you can read here:https://groups.jewishgen.org/g/main/guidelines
Thank you in advance for contributing to this amazing online community!
If you have any questions, or suggestions, please email support@JewishGen.org.
Sincerely,
The JewishGen.org Team
---
What a wonderful undertaking  
For those that cannot be identified by records, I wonder if any DNA can be recovered, despite the prohibition of disturbing the buried dead and the passage of time. If it can, there are large enough pockets of DNA repositories that can be used to compare with. Many of us wouldn't even know if a family member was alive, let only buried. Hopefully a database of names can readily be established. Are financial contributions sought?  If so, please share the information about how to go about contributing. 

Thank you. 
Shelley Mitchell, NYC 
---
In 2018, Poland outlawed blaming the country for any crimes committed during the Holocaust, prescribing prison or a fine for accusing the state or people of involvement or responsibility for the Nazi occupation during World War II. In 2021, the government moved to set a 30-year time limit on legal challenges over confiscated properties, in effect axing thousands of claims.
That's why "Jews and Poles in Jaroslaw and Their Relationship in the Years 1918-1945" from the Yizkor book of that Polish town is instructive, adding testimony to the numerous accounts in other books about the poisonous and often murderous relationship Polish officials and many people had with their Jewish populations. The author, Mundek Hebenstreit, notes that prior to 1930, while "the Jews and the Poles, in large numbers, behaved towards each other with a certain contempt," the Jews in Jaroslaw were not under "the terror of anti-Jewish excesses of the Polish population." But after that, as Germany headed towards Nazism, the relationship began to deteriorate across the county and Hebenstreit writes: "We, the Jaroslaw Jews, felt the looming windstorm."
Hebenstreit notes the ultimate irony for the Poles in the 1939-1945 period: "Only after the Germans expelled the Jews from the city, did the Poles begin to understand the danger that the German occupation brought for them as well."
--
Bruce Drake
Silver Spring, MD
Researching: DRACH, EBERT, KIMMEL, ZLOTNICK
Towns: Wojnilow, Kovel
---
He was born in Carei (Nagy Karoly), Romania, and lived and died in Vienna. With his wife Bertha (Bella) they had 5 children.
Bella for some reason headed to Prague with a daughter & her husband after the Anschluss and didn't make it. (She died in 1942 & is buried in Prague,
a mystery in itself given conditions at the time). The daughter and son-in-law were transported to Theresienstadt and then Riga where they were murdered. (The rest of the siblings got out).

Q: How is it Bella appears to have had a normal burial in the thick of the war?  I have questions about her family but will leave that for another time.

Josef Jacob died in 1928  (his parents, Moritz and Sali are also buried in Vienna), and the story I was told is that he (manufactured?) lace and may have brought the first espresso machine into Vienna. 
Aside from their wedding, home address, and burial records I've been able to find no further information. (Some came from a
request around 10 yrs ago from the Vienna archives)

Q: Any thoughts of where to look further?  They clearly had an amount of success given where they lived so the dearth of further information
has been puzzling. I've also not been able to find any further information besides burial on Moritz or Sali either.

Tanya Roland
ROTH, ROSENBERG, STEINMANN, VIENNA, PRZEMYSL, SAMBOR, CAREI, VRBOVE
---
My experience was that in addition to the costly transfer charge, Canadian banks required me to name an individual as recipient rather than an archive. The Polish National Archive could not comply and so I eventually decided to simply stuff the few zlotys into an envelope and send it by snail mail. My payment was successfully processed and I received my requested documents without problem.
Judy Zimmerman Silverman
Town of Mount Royal, Quebec
---
Caroline Gurney <research@...>
Definitely Wise. I sent £2,000 to Poland earlier this year and the fee was only £8.15. For such a small payment as you are making, the fee should be miniscule. I wish Wise was more widely known in the USA. I have had real difficulty getting American clients to pay me that way rather than via PayPal.
--
Caroline Gurney
---
The post regarding the cemetery at the Psychiatric Hospital at Slip, NY raises a question for me. My g-grandfather was a patient at Pilgrim State (mentioned in the post). I believe he was admitted by my grandmother for what I guess was dementia (Alzheimer's) in the early 1940s. He died there in1942 and is buried in Washington Cemetery in Brooklyn.
Is it possible to find records of deceased patients at NY State hospitals?
Thank you.
Richard Stower
Yarmouth, Maine 
Researching Kolomyya: SECHESTOWER, SPIERMAN, THAU, BEISER, GRAFF. 
Chortkiv/Budaniv: GROSS, FELLNER, HOCHMAN
Dobrowa Tarnowską: KANNER, SCHMIDT, WERNER
---
I have sent wire transfer payments to two different Archives in Germany recently.  My bank, Bank of America, has no transfer charge for transfers made in euros but has a significant charge for one made in US $.  I don't know why the distinction.  I assume that a transfer made in the currency of the country would not incur a transfer.

Johanna Becker
Newport, RI
---
Salem also borders East Haddam, CT, which also had a cluster of Jewish families that were farmers, as well as families who ran small resorts in the area.  Congregation Rofde Zedek, which later merged with Congregation Beth Shalom in Deep River, was founded in East Haddam in 1915.   See:
https://www.cbsrz.org/about/our-synagogue
There were a sizable number of Jewish families who settled in this region of CT.   
https://www.amazon.com/Life-Land-Connecticuts-Jewish-Farmers/dp/B01AASSYA4
There is also information about the resorts in that area.  
If you contact Congregation Beth Shalom/Rofde Zedek, they may be able to put you in touch with a member who has more information about the history of Rofde Zedek, and whether families from Salem were also part of that congregation.
Also, there was at least one "fresh air" camp in the area (in Moodus) associated in with a settlement house in the Bronx.   My mother attended this camp as a child in the 1930s.
Hope this helps.
Becky Fogel Anderson
Durham, CT
---
Second the recommendation for Wise (formerly transferwise). I've used them several times before and their fees are very reasonable and the service has been excellent.

Sharon Fleitman
Atlanta, Georgia
---
On Thu, Dec 9, 2021 at 12:02 PM, Marc Lipoff wrote:
Salem, Conn
You might consider looking into Chesterfield, CT in New London county. It is about 5 miles away from Salem. A Jewish community of farmers was started there in the 1890's. They had land in Salem as well. Look into the New England Farmers - 
https://www.newenglandhebrewfarmers.org
--
David Belton
Pennsylvania
---
I used Wise recently to transfer to the Lithuanian archives.  The handling rate was very affordable (under a dollar).  You do need all of the Archive's bank information to make the transfer.

wise.com

Marlise Gross
Cherry Hill, NJ
---
---
Brentsi
Shalom,
My great-aunt, Dveira Likhtmakher born 1877 in Vilna married Itzko Bension Soloveichik son of Berko in 1899.
Three children were born, Meer (1901) Osher (1908, died at 4mths old) and Zlata 1914 who married Shmuel Lubchik.
Zlata perished  in the Ponar Forest as did her mother Dveira.
 Looking for indication about the life of Meer Soloveichik who possibly lived in Kaunus… married ?
I searched all the usual sites, all the possibilities on Jewishgen databases …. Yad Vashem ( where there are the names of Dveira and daughter Zlata who died in 1944)
I found  a Meer Soloveichik on the Kaunus revision list but not much indication about him….
Open to help and suggestions.
Brenda Bernstein Habshush.
Kibbutz Sde Boker. Israel.
---
Reminder: JGSCNY Zoom presentation this Sunday - Libby Copeland will talk about her book The Lost Family. #dna #events #announcements
You are invited to our next free Zoom will feature Libby Copeland presentation of her book The Lost Family - How DNA Testing is Upending Who We Are.

Date: Sunday, December 12th
Time: 1:00pm EST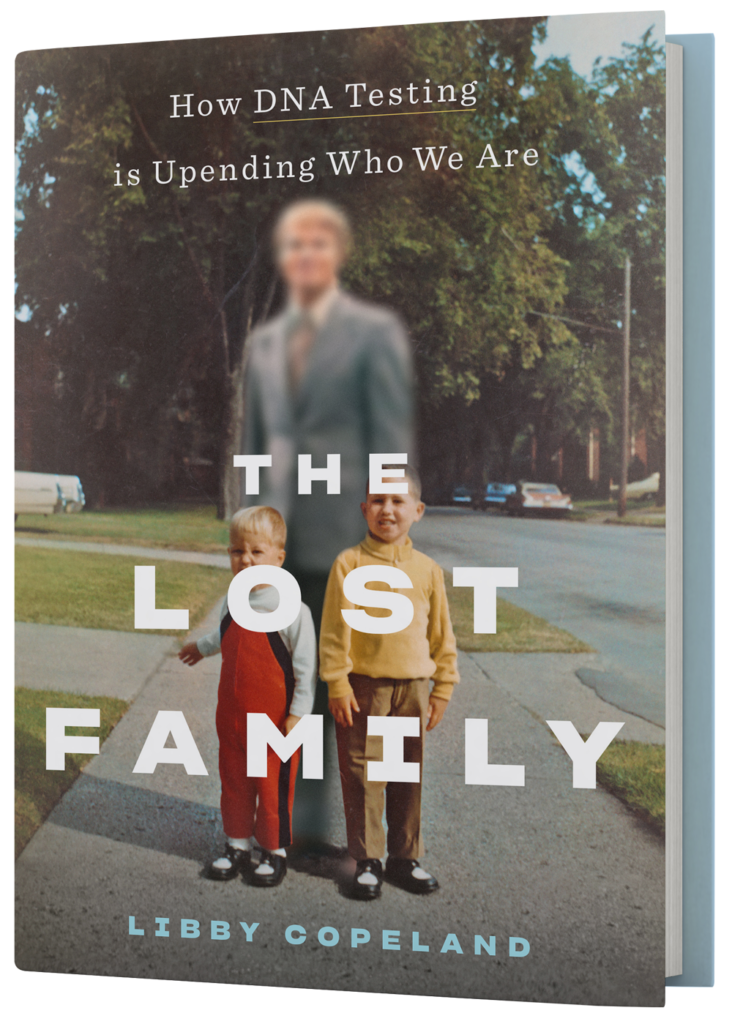 Register in advance for this meeting:
https://us02web.zoom.us/meeting/register/tZIoce2qrzoqH9OA9Dxvx_BDhMynWdLfa1Q2 
After registering, you will receive a confirmation email containing information about joining the meeting.
The book: A deeply reported look at the rise of home genetic testing and the seismic shock it has had on individual lives
You swab your cheek or spit into a vial, then send it away to a lab somewhere. Weeks later you get a report that might tell you where your ancestors came from or if you carry certain genetic risks. Or the report could reveal a long-buried family secret and upend your entire sense of identity. Soon a lark becomes an obsession, an incessant desire to find answers to questions at the core of your being, like "Who am I?" and "Where did I come from?" Welcome to the age of home genetic testing.
In The Lost Family, journalist Libby Copeland investigates what happens when we embark on a vast social experiment with little understanding of the ramifications. Copeland explores the culture of genealogy buffs, the science of DNA, and the business of companies like Ancestry and 23andMe, all while tracing the story of one woman, her unusual results, and a relentless methodical drive for answers that becomes a thoroughly modern genetic detective story.
The Author: Libby Copeland is an award-winning journalist who writes about culture, science, and human behavior. Copeland was a reporter and editor at The Washington Post for eleven years has been a media fellow and guest lecturer and has made numerous appearances on television and radio.
Yonat Klein
Syracuse NY
The Jewish Genealogical Society of CNY
---
Looking for Sandy Starkman, who attended webinar on Ashkenazi DNA. said your starkmans were Kohanim as are mine. Please email me at
marciaheller@...
  !
Marcia Heller
---
Russian President Vladimir Putin announced on December 8, 2021 that Russia will return to Greece the Jewish Holocaust archives that were moved to Russia following World War ll. The largest part of the archives relates to the once-thriving Jewish community in Thessaloniki, Greece's second-largest city.
During the Nazi regime and occupation of much of Europe, the Nazis plundered the documents and culture a treasures of Jewish organizations which they deemed to be enemies of the Reich. According to official figures, on July 11, 1942, the Nazis, led by the Austrian head of the SS Alois Brunner, surrounded the Jews of Thessaloniki in order to deport them to concentration camps. The community paid 2.5 billion drachmas for the freedom that they had been told would be given to them, but they only managed to delay the deportation until March 1943.
When the Nazis were crushed, many of these looted collections, as well as records of Nazi state agencies that persecuted and murdered Jews, were discovered by the Soviet Army, then transferred to Moscow and held for decades in closed, secret archives.
More than 44,000 Thessaloniki Jews perished in the Nazi death camps. Most were sent to Auschwitz. The few Greek survivors who returned to the country in the early 1950s found most of their sixty synagogues and schools destroyed, their cemeteries looted and their own homes occupied by other people. Once part of thriving communities in several Greek cities, approximately 59,000 Greek Jews were victims of the Holocaust — at least 83 percent of the total number living in Greece at the time of World War II and the German Occupation.
To read more see:
https://greekreporter.com/2021/12/08/russia-greece-jewish-holocaust-archives/
To read more about looted art and Russian State Military Archives go to:
https://www.lootedart.com/MFEU4M60512
Jan Meisels Allen
Chairperson, IAJGS Public Records Access Monitoring Committee
---
---
Upcoming JewishGen Webinar (DNA Part 2): The Lost Family: How DNA Testing Is Upending Who We Are #JewishGenUpdates
The entire JewishGen community is invited to join us for our next free JewishGen Talks webinar:
Topic:
The Lost Family: How DNA Testing Is Upending Who We Are
Speakers:
Libby Copeland and Jennifer Mendelsohn 
Date:
 Wednesday, December 15, 2021
Time:
 2:00 PM Eastern Standard Time
In the book The Lost Family, journalist Libby Copeland investigates what happens when we embark on a vast social experiment with little understanding of the ramifications. She is an award-winning journalist and author, who writes about culture, science, and human behavior and whose work has appeared in The Atlantic, Slate, Smithsonian, The New York Times, The Wall Street Journal, and Fast Company. In this talk, Copeland will be joined by well-known journalist and genealogist Jennifer Mendelsohn for a discussion about the book and the significance of DNA testing within Jewish communities and beyond.
Registration is free with a suggested donation. 
Please click here to register now
! 
After registering, you will receive a confirmation email about how to join the webinar.
---
Re: Are those gravestones proof my ancestors were jewish? #germany

--Never say never.  For a burial in a VA cemetery, the religious symbol that appears on the headstone is up to the deceased's family and if the family was not Jewish, say the veteran converted, and wants a cross on the headstone, that is what goes on it.  The only exception I am aware of is headstones of US veterans buried in US Military cemeteries overseas for whom Operation Benjamin was able to instigate a change from a cross to a Star of David, but even then a family member must agree to changing the religious symbol on the stone.  
Herschel Sheiness
San Antonio, Tx
jsheines@...
---
I am trying to locate a man by the name of Mattitiyahu Eilat who was living in Be'er Sheva in the 1970's.  He was at that time head of the Periodicals Department at the University of Be'er Sheva.  He is Hungarian and I think lived close to Budapest.  I don't know his name prior to his immigration to Israel. He survived the Holocaust, spent time in France and settled in Israel in the lat 1940's or in the 1950's.  His daughter's name is Yael.

Any assistance is appreciated.  
Please reply privately.  

Susan Miller
suski2@...