---
I've posted a vital record in Polish for which I need a translation. I am interested in the first record in this document for an individual named: Schwaje Biermann. It is on ViewMate at the following address ...
http://www.jewishgen.org/viewmate/viewmateview.asp?key=VM80593
Please respond via the form provided on the ViewMate image page.
Thank you very much.    Sincerely,   ,Dana Krug
---
---
Help deciphering handwriting in Polish birth act : View mate # 80525 #translation
I've posted a vital record in Polish for which I need help deciphering handwriting
Alberto Guido Chester, Buenos Aires, Argentina
---
I've posted a birth record in ViewMate for an Abram Josef
Nudelman
.  I am looking for a translation from Russian that will give me the important info, full name of the child, parents, ages of parents, occupation, etc. as well as the full date of the event.  It is on ViewMate at the following address:
https://www.jewishgen.org/viewmate/viewmateview.asp?key=VM80461
Please respond via the form provided on the ViewMate image page and thanks so much for your help!
Be safe.,    Wendy Newman
---
---
---
Hello, 
Very common, in Poland also. Often all variations are used for one person.
Best
---
Hello fellow genealogists,
I have a brick wall in my family tree and am hoping someone might help me break through it. 
My grandfather's sister's birth name is Hana FIRER / FUHRER, born in Radom, Poland on December 4/16, 1878.  The record was recorded in 1880.   She is the daughter of Jakob Icek FIRER and Fajga Brandla AUSTRIAN.
Her Social Security Application in 1939 gives her birth date as January 1, 1884.  She was living in the Bronx at the time of application.
She died on February 15, 1965 in Brooklyn, NY and is buried in Beth David Cemetery in Elmont, NY.  Her headstone indicates she was a mother and grandmother.  The contact information from the cemetery indicates a grandson named Paul (no surname given) who lived in Miami Beach.  I found no other GOLDMAN's in the family plot.
Her married name is GOLDMAN.  I only have an initial for her husband's given name.  My grandfather arrived in the US on October 4, 1913 and was going to stay with his brother-in-law, "T GOLDMAN".
There is a family story that she lived in England before she came to the US and 'left a family behind'.  I have no idea of any truth behind this story.
I have not found her on the Ellis Island data base.  I have no idea of her husband's given name or any of her children.  Any and all help would be appreciated.
Greg Tuckman
Phoenix, AZ
---
Dear gersigs,

I hope that you could help me.

Siegmund Schild (parents Benjamin Schild und Hannchen Salberg in
Eimelrod (Frankenberg) was born 19.02.1858 in Wuennenberg (Bueren). He
was a painter in Unna and live in the Kaiserstreet. 07.12.1881 he
married in Unna Emilie Heymann (born 19.12.1850 in Unna). I know 2
Children

Eugen was born 07.02.1883 in Unna, le lived in Weinheim and Frankfurt.
He married Rosa Würzburger.
Emilie (Emma) was Born 31.03.1884 in Unna, she lived in Köln. She was
deported to Minsk 1942.

I did not found Siegmund, Hannchen Heymann and Eugen in the german
Gedenkbuch. What is happened with them?

Regards

Mike Redel
Unna, germany
---
Hi folks,

I'm looking for a professional translator to help me translate Polish records for a reasonable fee.
I'm aware of the amazing service JGEN provide known as ViewMate, but as some of the records from certain Polish regions were recorded in long documents, I'm seeking somebody to translate the entire entry word for word. Not just extract the names and dates.

Please contact me here with any information that can help me.

Best, Moses J.
---
I can't say this is universally true, but in my research in Hungarian archives, I have occasionally found lists of those who applied for passports, but no actual files of information or photos. Your only hope would be that the person kept the passport and the family has it in their possession. I am speaking here of turn-of-the century and earlier records. Perhaps passports issued later left more of a paper trail.
Beth Long
Reno Nevada
---
During these challenging times, MyHeritage is constantly looking for new ways to help people who are staying at home pass the time and learn how to do genealogy better.
The "Ask The Expert" 30-min sessions on Tuesdays and Thursday at 1pm Eastern U.S. time will explore each time a different subject and will give you the opportunity to learn and ask your questions live. For the updated May 2020 schedule and registration links visit
https://bit.ly/MyHAskTheExpert
---
Re: Searching for PHILIPS family possibly from Suvalk (Suwalki) Area -Translate Family Name from Grave Marker? Philips in US #poland #lithuania #translation
Susan Beecher <s_beecher@...>
Renee Steinig kindly found the family that I was looking for on JRI-Poland. From her email to me,
"Aha! I found these Suwalki birth records on JRI-Poland:
Dyna Rocha SOLINSKA b: 1837 parents: Abram, Feiga
Itka Szyfra FILIPOWSKA b: 1859 parents: Abel Hirsz, Dyna Rocha SOLINSKA
Mowsza Aron FILIPOWSKI b: 1861 parents: Abel Hirsz, Dyna Rocha SOLINSKA
Fejga FILIPOWSKA b: 1864 parents: Abel Hirsz, Dyna Rocha
Mowsza Aron must be Morris, and Fejga may be Fannie!"

With the original name, I was also able to find and see those records.  I am eternally grateful to her and to this group!
Susan

---
Looking for information on BURDEINIC family Soroka 1940 #bessarabia
Hello Genners. I could use some help finding out information about the BURDEINIC family from Soroki.  Notyeh and Khaveh are the names of my Grandfathers cousins. My grandfather was Froim Katsmazovsky (Katsmazovskij) I have a letter from them written in 1940 from: 
Burdeinic Motea
Str. Reg Carol
N 34 Romania
I do not know how they are my grandfathers cousins- any info would be helpful. 
Rachelle Litt
Palm Beach Gardens, Florida
---
Re: Searching for PHILIPS family possibly from Suvalk (Suwalki) Area -Translate Family Name from Grave Marker? Philips in US #poland #lithuania #translation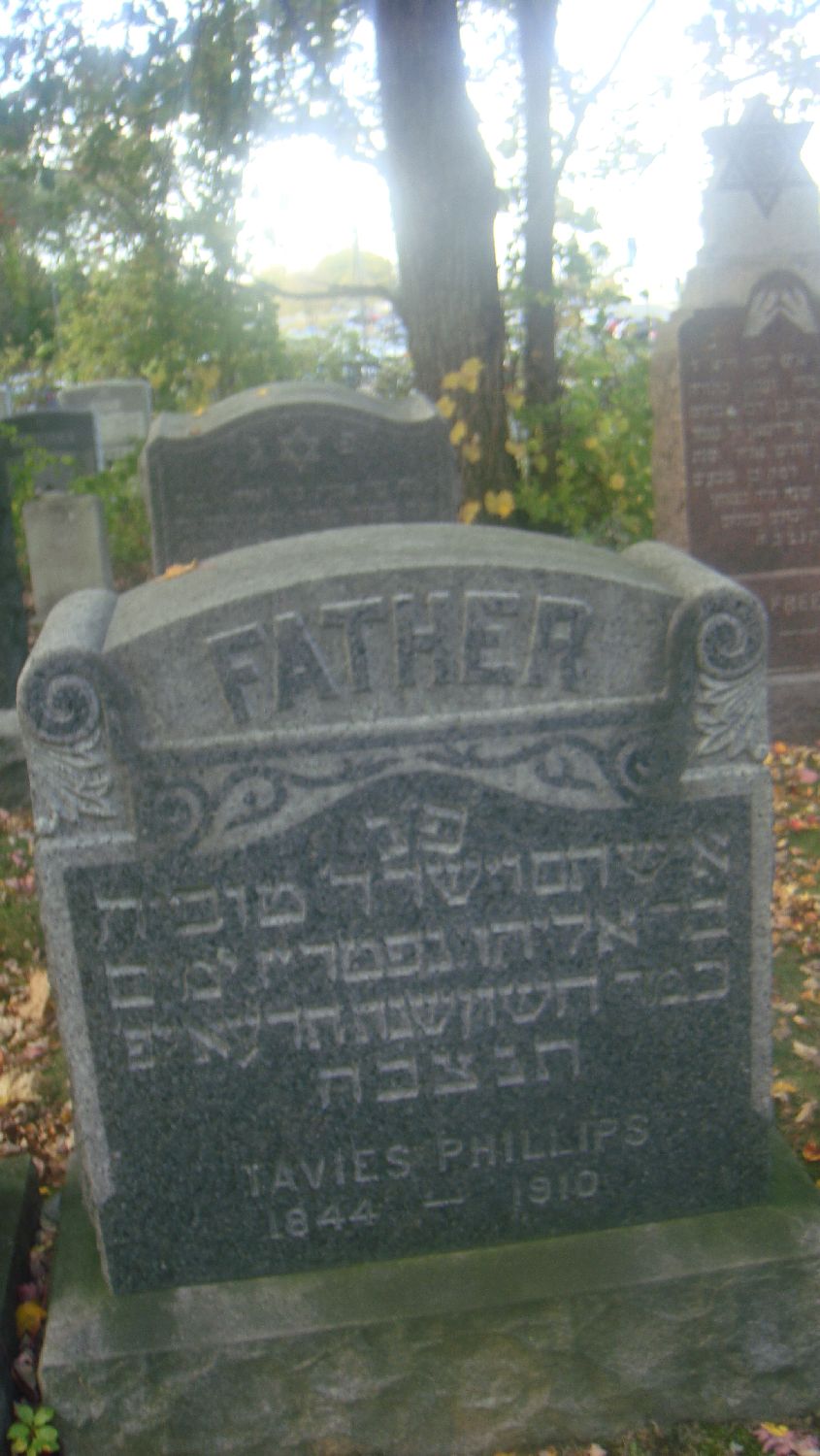 Here is an interesting possibility.  Tevye Philips, from the Bialystok area, died in Albany.  Like Abraham, is father was also Eliahu.  The Hirsh in Abraham's name probably came from an earlier ancestor, and Tevya had a son named Hirsch.
Tevye's immigration name was Mayer Gaczkowski.
contact me directly for more info.
family at kitces.com
---
Re: How can I find NYC naturalization papers with only the record number? #general
David Oseas
Cory,
There is a good write-up on manifest markings, written by Marian L. Smith (Historian emeritus, USCIS), on JewishGen: 
https://www.jewishgen.org/InfoFiles/Manifests/occ/
Starting in 1926, the INS required verification of the information on the Petition for Naturalization against passenger manifests, over concern for fraud during the naturalization process. 
Unfortunately, there isn't a lot you can do with the number that you cite:  it indicates that your relative filed to receive a "Certificate of Arrival" in the New York district (2-) in February, 1943.  There is no index to the CofA numbers.  For the people that I've researched, the verification was done anywhere from a year prior, up to two weeks before filing a petition, though the average is about one month prior.
The (404) [or a (505) notation] indicates that the information on the petition differed sufficiently from the manifest that the clerk was unable to certify that this was the correct person.  In my research, I have found that only a few passengers with a 404 or 505 notation went on to successfully naturalize.
Immigrants typically Americanized their names during the naturalization process and this information is recorded within the documentation.  Most naturalization indexes contain both the original name upon arrival, and the new name that the citizen will be using.  The name Meier frequently became Max in the US.
Starting in 1940, aliens residing in the US were required to file an Alien Registration form.  For people that did not become citizens before 1944, those forms were used to start an A-File with the INS.
You may find that a USCIS index search (
https://www.uscis.gov/history-and-genealogy/genealogy/searching-index
) will be fruitful -- for a (currently) $65 fee, they will search their indexes to see if they can locate a C-File or an A-File for your relative.  Based on the results of the search, you can request copies of the records (currently, an additional $65), or may even be able to locate them yourself.
Regards,
David Oseas
Researching:
HYMAN/HEYMAN/HEIMOWITS/CHAJMOVITS: Zemplen-Dobra, Hungary > New York
KLEIN: Satoraljaujhely (Ujhely), Hungary > New York > Los Angeles
OSEAS/OSIAS/OSIASI/OZIAS: Iasi, Romania > Chicago > Milwaukee > Los Angeles
SCHECHTER/SHEKTER: Kishinev, Bessarabia > New York  
SHERMAN: Iasi, Romania > New York > Los Angeles
STECKER: New York > Florida
STRUL:  Iasi, Romania > Haifa, Israel
WICHMAN: Syczkowo (Bobruisk), Belarus > Milwaukee > Los Angeles
---
---
Re: Searching for PHILIPS family possibly from Suvalk (Suwalki) Area -Translate Family Name from Grave Marker? Philips in US #poland #lithuania #translation
Hi Geniediane,
  I grew up in Marianna, Washington Co, Pa where my best friend was Ted Williams ( not that Ted ). His parents were of Russian  descent- Phil Williams and --- Phillips.  There was a Russian Orthodox church in our little town and which was presided over by Chuck Phillips who was Mrs Williams brother.  Not sure this is what you are searching for, but it might be worth a look.
Jim
JHazl@...
---
Did passports from before ww2 in Hungary Romania have pictures on them?
if yes are these documents and pictures saved by the government?
---
Re: LOOKING FOR INFORMATION ABOUT GT GRANDMOTHER #general
I did spell her married name wrong.  It is Auerbach..