---
Project Gutenberg is the world's oldest digital library. It has been blocked by ISPs in Italy under the orders of the Court of Rome. The platform, which focuses on public domain books, appears to have been erroneously labeled a pirate site in an action targeting 28 domains and several Telegram channels.  The site has been rendered inaccessible by ISPs in Italy under the instructions of the Public Prosecutor at the Court of Rome.
The seizure/blocking notice states that all of the targeted domains "distributed, transmitted and disseminated in pdf format, magazines, newspapers and books (property protected by copyright) after having illegally acquired numerous computer files with their content, communicating them to the public, [and] entering them into a system of communication networks."
The order from the Court of Rome was also sent to Google, a copy of which was acquired by TorrentFreak from the Lumen Database. The sender was Reccia Giovanni who is listed as a commander with the  Guardia di Finanza,(GdF) the Italian police unit tasked with financial crimes. Gutenberg.org is 15th on the list of allegedly infringing sites.  According to its transparency report, Google has received requests to have 1,110 URLs from Gutenberg.org deleted from its search results. The company took "no action" for 85.9% and marked the remaining 14.1% as duplicate requests, for which it also did nothing.
Project Gutenberg was founded in 1971 includes 62,000 books  with a focus on titles that entered the public domain after their copyrights expired.  Everything from Project Gutenberg is completely without cost to readers  in the United States because most are not protected by U.S. copyright law, usually because their copyrights have expired. They may not be free of copyright in other countries. It is best for readers to check copyright terms of their countries before downloading or redistributing their eBooks. They also have a number of copyrighted titles, for which the copyright holder has given permission for unlimited non-commercial worldwide use.  Project Gutenberg eBooks require no special apps to read, just the regular Web browsers or eBook readers that are included with computers and mobile devices
The website is: https://www.gutenberg.org/  The block it's not anything on the Gutenberg.org servers or associated infrastructure and is applied by the Italian authorities, perhaps only in Rome.  Project Gutenberg operates wholly from the United States.
Try the search field for Genealogy and for Jewish but not Jewish Genealogy

To read more see:
https://torrentfreak.com/project-gutenberg-public-domain-library-blocked-in-italy-for-copyright-infringement-200603/
Jan Meisels Allen
Chairperson, IAJGS Public Records Access Monitoring Committee
---
At 20:53 08/06/2020, Ruth Kornbluth wrote:
Was there ever an organization that helped survivors establish contacts with American relatives after the war by publishing ads in newspapers across the USA? And, if so, would any of those records be available for research?
Thanking you in advance…
Ruth Fenichel Kornbluth
_._,_._,_


---
There was the magazine "AUFBAU" published in the USA and UK  - now archived at the Leo Baeck Institute
There was also the "Union - Blaetter der Emigration"  in South Africa which is archived in Micro-film format in many libraries (mostly in Germany, I do not know about elsewhere) and which I have digitized.  That is still in my computer and searching for a public home.
David Lewin
London
Search & Unite attempt to help locate people who, despite the passage of so many years since World War II, may still exist "out there".
We also assist in the process of re-possession of property in the Czech Republic and Israel.
See our Web pages at https://remember.org/unite/ and at https://searchandunite.org/

---
Hello Ron,

The marriage of Lewis and Hannah was recorded in the marriage register of the New Synagogue. According to census records, Lewis was born in 1815/16 in Christchurch, Spitalfields.

I have a spreadsheet version of the NS marriage records which can be easier to use than the database on SynagogueScribes. Both contain the same information.

I have come across the following record from 1816:  Moshe ben Nathan married Rebqeh bat Yehuda-Leib (ref. NSM 574). There are no other details, not even a specific date.

This marriage would certainly appear to be that of Lewis's parents. He was named after his mother's father (Yehuda-Leib) and he named his first son Nathan (b. 1841) after his paternal grandfather. 

Regards,

Justin Levy

---
The New York Times carried these kinds of personal ads up through the 1960s or 1970s.  Sometimes they appeared at the bottom of the front page of the first section, in very small font.

--
Marc M. Cohen, Los Gatos, California, USA

BARAK/CANTORCZY: Khotin, Bessarabia; Strorozhinets, Bukovina, Ukraine
CHOMITZ/HAMETZ: Ionina (Janina), Greece; Ignatovka, Ukraine; Kiev Gubernia, Ukraine
COHEN: Dinovitsi (Dunayevtsy) Ukraine; Roman/Tirgu Frumos, Romania
KORNITZKY: Kiev Gubernia, Stepnitz/Stepantsy, Ukraine
RÎBNER: Storozhinetz, Costesti (Costyntsi), Drachinets, Cabesti, Bukovina, Ukraine
ROSENBERG: Tirgu Frumos, Roman, Romania; ISRAEL
WEININGER: Cabesti, Costesti, Drachinets, Czernowitz, Bukovina, Ukraine
---
Friedrich L.
Good morning from Germany,
I would love to translate the text for you but I don't find it anymore. Did you already find help?
Best regards!
---
FamilyTree Magazine's 101 Best Genealogy Websites 2020

FamilyTree Magazine has published its 2020 101 Best Genealogy Websites.  https://www.familytreemagazine.com/best-genealogy-websites .
They have divided the categories into the following:
Best Big Genealogy Websites
Best Genealogy Records Websites
Best Family Tree and Sharing Websites
Best US Genealogy Websites
Best African-American Genealogy Websites
Best Military Records Websites
Best State Genealogy Websites
Best Genealogy Apps and tech Tools
Best UK and Irish Genealogy Websites
Best Scandinavian Genealogy Websites
Best European Genealogy Websites
Best Mapping Websites for genealogy
Best Genealogy Library Websites
Best Historical Newspapers Websites
Jan Meisels Allen
Chairperson, IAJGS Public Records Access Monitoring Committee
---
If I recall correctly, the Jewish Exponent in Philadelphia similarly carried such "seeking relatives" advertisements.
--
Ken Ryesky,  Petach Tikva, Israel     
kenneth.ryesky@...
---
Seeking genealogical resources for Milicz (Militsch) SW Poland #poland
Hi Genners!


I recently posted a request for help locating a town mentioned in a Poznan census (see here). It turns out to be Milicz (or Militsch in German), in the lower Silesian region. Here's a brief history concerning its Jewish inhabitants (from sztetl.org.pl).
At first, the Jewish population inhabiting Milicz was very small. There were 5–10 Jewish families living in Milicz in the years 1794–1812, that is a total of no more than 50 people. The local Jewish community was established in the early 19

th

 century; a small synagogue was erected in the town in 1820. A cemetery was opened around the same period. The statute of the Jewish community of Milicz dates back to 1860; at the time, the community was the most populous. In 1848, it had 105 members, while in 1864 – as many as 197. The number of Jewish inhabitants of Milicz started to dwindle in 1871, falling from 64 in 1871 to 46 in 1937. The trend was temporarily reversed at the turn of 1925, when as many as 91 Jews lived in the town.
As one can see, the community was indeed a young one with most of it's inhabitants emigrating from other towns nearby or traders (Militsch was located near a frequent trading route).

However, I'm struggling to find any existing Jewish records from the town. In a book by Bloch Fritz (pub. Breslau 1926), he mentions various records both from the Kahal and civil records which (supposedly) are located at the Gesamtarchiv dear Deutschen Juden zu Berlin. If any of these still survive? Who knows.

I would appreciate to learn if records from this community exist, since I cannot even find vital Jewish records. We're BM&D perhaps registered elsewhere? We're they destroyed during the war?
 
Additionally, I learned of the existence of a Jewish Cemetery. I would very much like to know if the cemetery has been photographed or mapped by anyone in the past, given the ongoing international situation which refrains me from travelling there in person.

Best, Moses Jefferson
London, UK

---
Re: An Old Song - Possibly Russian, possibly Yiddish #general
Oh yes!  In Israel/ Hebrew, the rooster says 'Kukuriku' as an American rooster crows 'cock-a-doodle-do'.
Shirley Ginzburg
seeking SHLUGER/SCHLAGER from Shepetovka area Ukraine;  descendants from town of DUBNO, Ukraine;  DAMATOVSKY/DEMATOFF from Mir area of Belarus.
---
Hi Josh,
I may add, that Moses Salomon's wife's first name was most
likely not "Betty"
(compare the first capital letter with the last name
Benjamin), the end to me looks more like
something like ".ettig", sorry not to be of more help.
The first name is definitely Betty (y with dots: Bettÿ).
It's a mixed text from old German with Latin script.
Surnames and also place names are written in Latin script -
compare Rendsburg or Sanct Pauli.
regards
Ernst-Peter Winter, Münster (Hessen)
---
Thanks to JewishGen, I just found out a property owned by my great grand father property was seized by the Nazis, house is located in in Kazimierz Dolny, Poland. See viewmate # 82310
I was told the original document is at the Polish Archives in Warsaw and that a copy may be at the USHM in Washington, DC. I have contacted them
I have 2 questions:
1- How can I verify the address was the same in 1940 as now. A photo of a house can be seen when googling the addresst, it is a tourist attraction and a rental house
2- How to ask/file for restitution?
Thanks
Anne Marie Nunez
great grand daughter of Slama Hauszwalb
---
The answer is Yes.  "Seeking Kin" or similarly named ads were placed in Jewish newspapers by social service organizations including the Hebrew Immigrant Aid Society, the Union of Russian Jews, the National Council of Jewish Women and others.
They appear in the J
ewish Advocate, Boston
newspaper from 1916 to 1991.  Members of the Jewish Genealogical Society of Greater Boston have indexed 5,000 of these ads and they are searchable on Jewishgen's USA Database.  
https://www.jewishgen.org/databases/USA/BostonSeekingKin.htm
David Rosen
Boston, MA
toggle quoted message

Show quoted text
On 6/8/2020 3:53 PM, Ruth Kornbluth wrote:

Was there ever an organization that helped survivors establish contacts with American relatives after the war by publishing ads in newspapers across the USA? And, if so, would any of those records be available for research?
Thanking you in advance…
Ruth Fenichel Kornbluth
---
Hi Carol:
I am sure you will find this document of a great value.
Regards
Alejandro T Rubinstein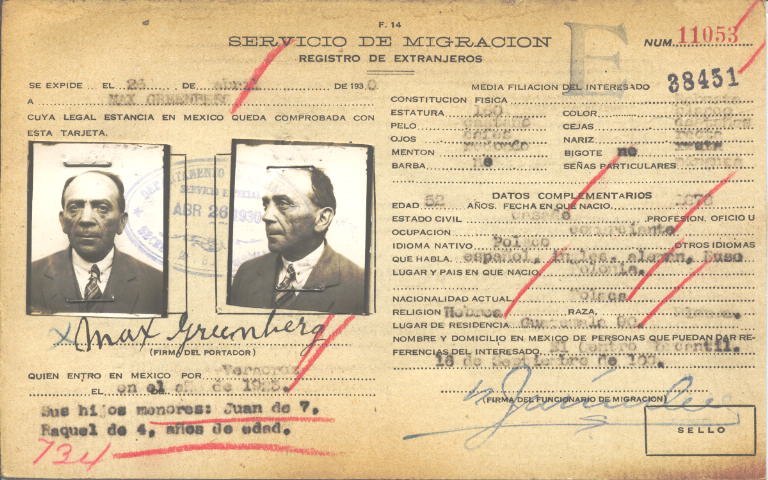 ---
Informations about Jews from Jadow / Yadov / Yaduv [Poland] #poland
I'm looking for informations about Jews from little town Jadow [also known as Yadov or Yaduv]. I'm opening non-profit museum in Jadow this year and I would like to comemorate here as many Jews and their stories as it will be possible. I will be glad if you can help me in any way to find Jews from Jadow, their relatives and any stories & materials (documents, photograps) connected with them.

Best,
Marek Suchocki
---
Re: Where are the Smolensk vital records located? #belarus
---
Hello-
I had a great aunt who came over to the US named Fannie Stabinsky(modt likely an Americanized change from Sztabinska). She married Ben Freeberger (Frie or Freiberger) from Russia (at the timer) now Poland. I'm not fure if this helps, but I hope so.
Fran Frieberger Jackson
St Louis MO
---
---
Re: German Citizenship under Article 116 #germany
The German Consulate in Los Angeles told me to expect a 2 year wait after submission of all the required documentation. It's now been 25 months and I'm still waiting, but I suspect Covid slowed everything down.
---
Ronald Alex Nathan
Earliest Direct Ancestor is Moses Nathan (1792-Jan. 1854).
Born in Whitechapel, London, England
Married to Rebecca (last name?), (Calculated 1792-1860)
They had Lewis Nathan (only 1 child?), who married Hannah (Cohen?) on Aug.
15, 1838 at 3 Cobb's Yard, London, England
1841 Census has Rebecca and Moses living with their son and daughter-in-law
at Cobb's Yard, Tower Hamlets, Middlesex, London, England
How do I find out more about Moses and Rebecca?
Respectfully, Ron A. Nathan
---
I may add, that Moses Salomon's wife's first name was most likely not "Betty"(compare the first capital letter with the last name Benjamin), the end to me looks more likesomething like ".ettig", sorry not to be of more help.
It's "Bettÿ", Using different forms of the same letter in a record is sometimes used for emphasis. The entire name "Benjamin" is in a modern form in order to emphasize it. We would now use italics for that purpose.
--
Ralph N. Baer       
RalphNBaer@...
       Washington, DC