Request for information on Father after WW2 in Australia
Request for information on Father after WW2 in Australia #general
---
THIS IS A REVISED VERSION
Our Father Kurt Ehrmann was an enemy/friendly alien (Germany-England via KT-HMT Dunera-Australia) private the Australian Army and served in the Employment company in Australia (AEC) formally enlisting in Spring of 42
He came to the US in the Spring of 46 after his discharge in 45 from the AEC. 
According to documents, we believe he spent some time in two places during the year he was delayed in leaving Australia for the US on the SS Matson for his 3 week trip to SF
We know that 
1. He spent some time in Richmond (Church street)..believe in southernmost Australia??
and then we believe at some point he
2. traveled up north and stayed a second place and believe he embarked on the SS Matson for his 3 week journey to SF which we believe left from Melbourne or Sydney in spring of 46 (we have original ship manifest w his name on it)
I know it is a long shot, but would be appreciative if anyone has any knowledge during this time period Spring 45 and beyond any organization that might have been responsible for finding housing of men in Australia from the time from discharge to their final destination.
Thanks 
Paul Ehrmann
ehrmann.paul@...
---
Paul,
I think this is your father:
EHRMANN KURT : Service Number - V377498 : Date of birth - 11 Jul 1922 : Place of birth - COLOGNE GERMANY : Place of enlistment - CAULFIELD VIC : Next of Kin - EHRMANN H
There is more than one Richmond in Australia, certainly one in Melbourne NSW and another in Sydney NSW. Given Kurt enlisted in Caulfield, a suburb of Melbourne Victoria, I would expect it is Richmond in Victoria. Distance Melbourne - Sydney is 1,000km give or take.
You can search within the archives here - https://recordsearch.naa.gov.au/SearchNRetrieve/Interface/DetailsReports/ItemDetail.aspx?Barcode=6255338&isAv=N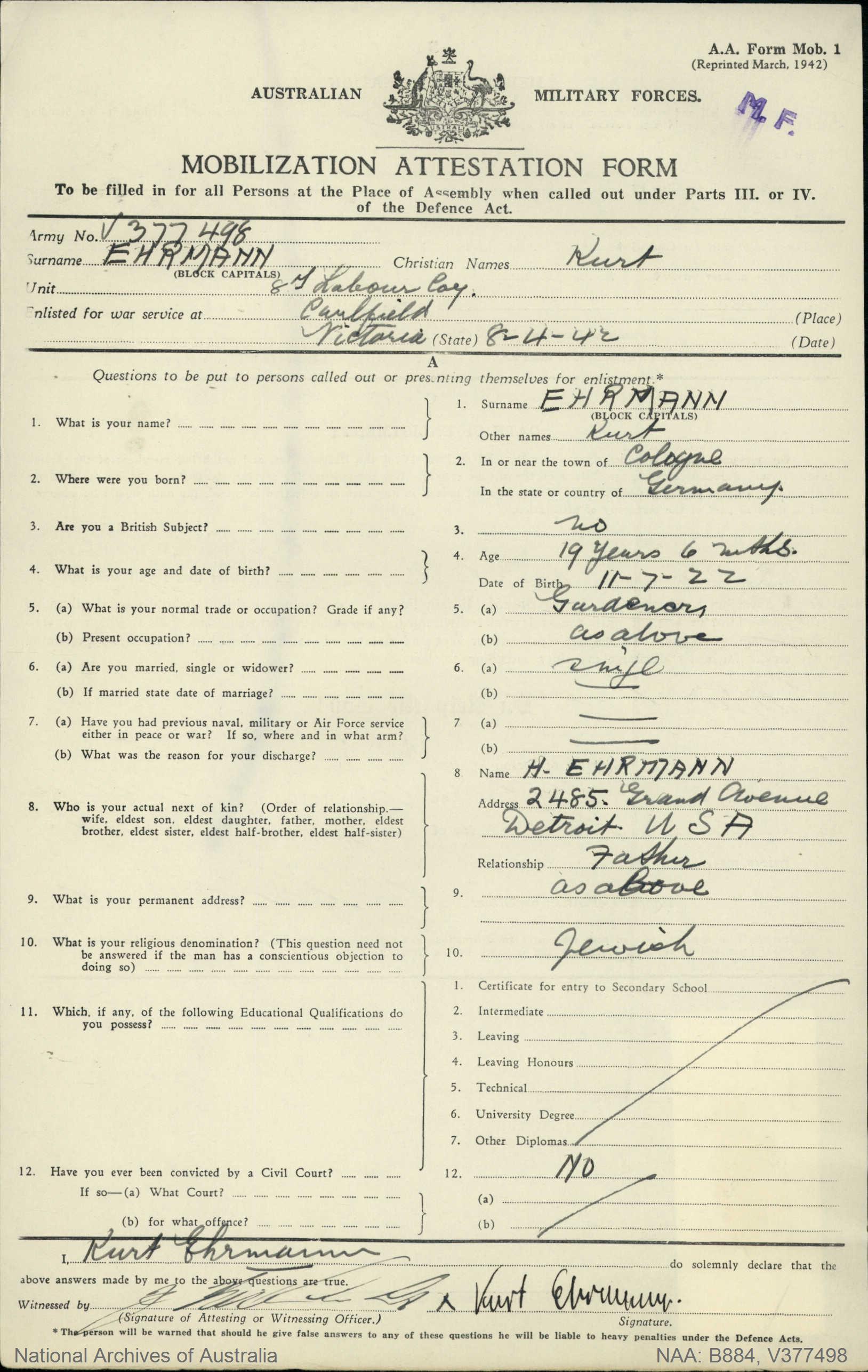 --
Pieter Hoekstra 
Moss / Moses, De Costa - London and Brighton
Barnett, Da Costa, Lazarus, Joseph, Judah, Solomon - London


---
Church St Richmond, is in Melbourne.
--
Stephen Schmideg
Melbourne, Australia
stephen@...